Sports Injuries
Active athletes, whether they're dabblers, weekend warriors, or pros, increase their risk of injury just by engaging in sport.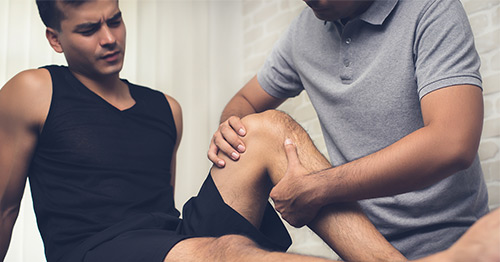 Certain sport activities are especially hard on the large joints, such as the knee, shoulder, and elbow. Baseball players – especially pitchers – use their arms to throw the ball at great velocity and are susceptible to shoulder and elbow injuries including:
Similarly, baseball, basketball, soccer and football players can frequently experience:
Sports medicine refers to the practice of treating athletic injuries – particularly those affecting the musculoskeletal system – and rehabilitating/conditioning athletes to perform to the best of their ability.
Dedicated to treating athletic injuries of the musculoskeletal system, with a special focus on shoulder, elbow, and knee injuries, the HSS Sports Medicine Institute is one of the largest, most active, most highly respected departments in athletic medicine today. Combined with the sports medicine centers available at HSS, such as the Sports Rehabilitation and Performance Center and the Women's Sports Medicine Center, the expertise available at HSS is unparalleled.
Currently, our sports medicine doctors and physical therapists serve as team physicians and athletic trainers for the New York Giants, the New York Mets, the New York Knicks, and the Brooklyn Nets.
To learn more about the sports medicine services and treatments available at HSS, access the articles, audio clips, and video programs listed below.
Sports Injuries Success Stories