Shoulder Replacement
Although less well-known than total hip or total knee replacement, total shoulder replacement surgery, also known as total shoulder arthroplasty (TSA), is a successful procedure for treating arthritis of the shoulder joint.
Shoulder replacement surgery relieves pain and helps restore motion, strength and function of the shoulder. After surgery, many patients can get back to playing golf, tennis and other sports, and participate in other physical activity that they previously avoided because of shoulder pain.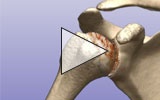 Learn more about shoulder replacement surgery and find the best surgeon for your individual condition by exploring the content and links below.
Back in the Game Patient Stories