Hip/Femoral Retroversion
Version refers to the angle of femoral neck in relationship to the shaft of the femur. Extreme excessive version may require surgical correction, such as a procedure known as an osteotomy, which involves breaking and realigning the femur.
Femoral retroversion is a condition in which the femoral neck is rotated backward on the femoral shaft. Femoral retroversion can result in the crushing of the labrum.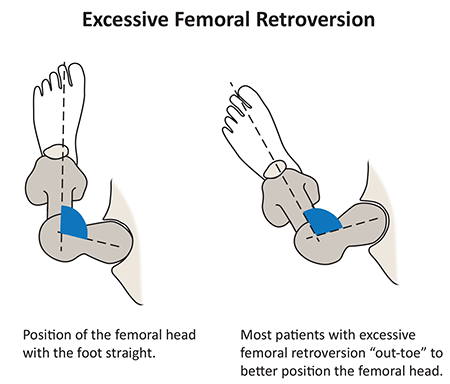 Excessive Femoral retroversion; On the left; position of the retroverted femoral head with the foot straight. In this position, the neck of the femur impinges on the front of the acetabulum. On the right; most patients with hip retroversion compensate by walking with an out-toeing gait to avoid hip impingement and pain.
Back in the Game patient stories