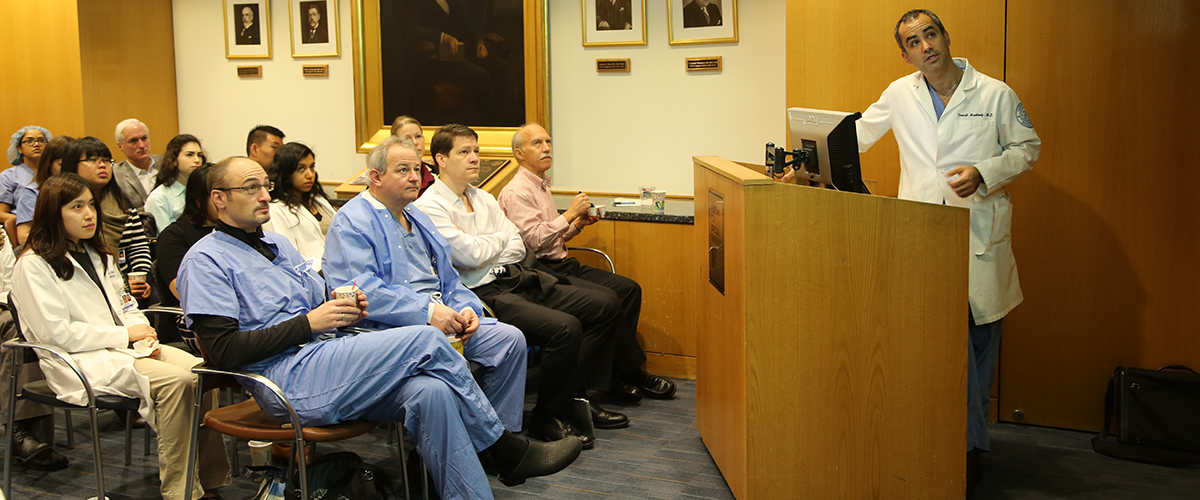 Accredited Programs
CME Grand Rounds Program
Weekly Grand Rounds are offered most Thursday mornings at 7:00am in the Richard L. Menschel Education Center. Faculty presenters include internationally renowned speakers and department staff. Each month, a program announcement is circulated throughout Hospital for Special Surgery, Memorial Sloan Kettering Cancer Center, NewYork-Presbyterian Hospital, and Rockefeller University.
Journal Club
This program reviews and discusses recent research literature and its application to departmental practice. Several Mondays each month, at 7:00am in the Richard L. Menschel Education Center, the Department of Anesthesiology holds a Journal Club that features presentations from attending staff, fellows and rotating residents.
Research Update
Every other month, researchers within the Department of Anesthesiology, Critical Care & Pain Management present on a wide variety of research-related topics ranging from planned protocols, crafting an effective study design, status reports on current protocols, and summarization of completed studies.
M&M Conference
Every other month, the M&M Conference focuses on discussing complications and their management during this interactive conference.
Non-Accredited Programs
Friday Teaching Conference
Every Friday, the department offers a teaching conference for our fellows and rotating residents. These conferences, which may include case discussions, lecture on core topics in regional anesthesia. Exam preparation meetings are moderated by members of the attending and fellowship staff and convene at 7:15am.
Core Curriculum Lecture Series
This series of lectures focuses on regional anesthesia and acute pain medicine topics and is presented by several members of our attending staff to fellows in the first quarter of the fellowship year.
Fellows Monthly Lecture Series
For RA&APM fellows only, this lecture series consists of high-level presentations on topics such as risk management, anesthesia practice message, starting a regional anesthesia practice, chronic pain management, and bio-ethical consultations.
Back to Department of Anesthesiology, Critical Care & Pain Management for Professionals
Back to Regional Anesthesiology & Acute Pain Medicine Fellowship