For patients with multiple failed hip surgeries, 3D customized implants offer an effective solution for cases that would otherwise be nearly untreatable
For five decades, orthopaedic surgeons have been replacing badly damaged and diseased joints with implants made of plastic or metal. They have sought the best materials, shape and porosity to ensure optimal bone growth. When a joint replacement is successful, it's transformative for the patient — vastly improving the individual's function and quality of life.
While off-the-shelf implants work well for the vast majority of patients, they don't succeed in all situations, including complex hip replacement cases and repairs to the carpometacarpal joint in the thumb.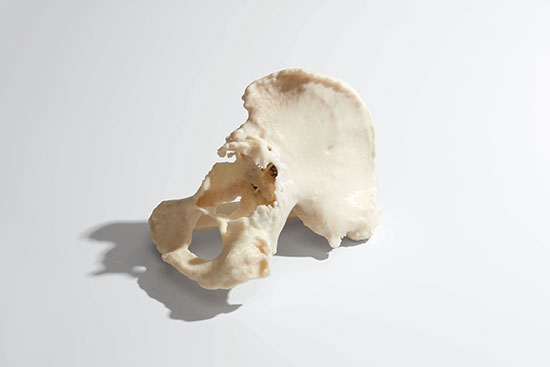 The ultimate goal for joint replacements is to design an implant that optimizes bone ingrowth. This ensures that the components will stay in place for the rest of a patient's life, without the need for bone cement for fixation. Additive manufacturing technology — or 3D printing — offers orthopaedic surgeons a customized solution that can be tailored to an individual patient's needs, akin to precision medicine treatments in cancer. Having a customized implant with enhanced bone ingrowth potential is particularly important for patients with more complex conditions, often from prior implant failure.
HSS has long been an innovator in joint replacement surgery, creating the first modern knee replacement system in 1974. Now HSS surgeons and engineers are playing a leading role in advancing applications of 3D-printed joints for orthopaedic surgery. By mid-2020, HSS and its strategic partner, LimaCorporate, an Italian company that has been using additive manufacturing for joint replacements for more than a decade, will open the first-ever laboratory on a hospital campus to produce customized components for joint replacement through additive manufacturing.
Already under construction, the new facility will mark an important inflection point in the development of 3D-printed implants for orthopaedic surgery at HSS, explains Timothy Wright, PhD, who heads up the institution's Department of Biomechanics upstairs from the site of the new laboratory.
"The ongoing mission of HSS is to improve patient care," Dr. Wright explains. "We are confident that with this new technology, we can solve problems that we can't solve with existing technology. It's exciting to create the opportunity to collaborate with a company that's on the cutting edge of orthopaedic devices."
The FDA-regulated commercial facility will make patient-specific implants, while another arm of the operation will focus on research and development, in collaboration with HSS. "It's going to get us to 3D-printed solutions a lot faster than if we were trying to do it on our own, or they were trying to do it on their own," Dr. Wright says. "It's a marriage made in heaven as far as we're concerned."
An example of the promise of additive manufacturing would be repairing damage to the carpometacarpal joint in the thumb. The joint's deterioration can cause debilitating pain and instability for patients — most of them women over 65 — making it difficult for them to conduct routine tasks. Currently, no surgical implants exist that are effective and long-lasting, explains Dr. Wright. The best that surgeons can often do is to interpose a tendon to provide a cushion between the damaged joint surfaces. This relieves pain, but often doesn't adequately restore full function.
The solution could lie in 3D-printed components that can be tailored to achieve specific porosities and shapes, to better adhere to bone and to fit more snugly within a person's anatomy. That's also the case for total hip replacements, where the surgeon essentially prepares the acetabulum and replaces the hip socket with metal and plastic parts. When these components loosen, surgeons have to perform revision surgery, but serious bone loss often makes an off-the-shelf solution inadequate.
Peter Sculco, MD, is an orthopaedic surgeon at HSS who performs hip and knee replacements, including many revision surgeries. "HSS is the world leader in orthopaedic surgery, and as such is best equipped to handle complex cases," he says. "This collaboration with Lima will allow us to continue to lead the way in discovering innovative ways to manage these challenging cases."
For now, Dr. Sculco remains relatively conservative in employing 3D-printed joints. He reserves the technology for his most complex revision surgeries — about 3 to 5 percent of cases, he says. However, for patients with multiple failed hip surgeries, 3D customized titanium parts offer an effective solution for cases that would otherwise be nearly untreatable. In October 2019, he became the first HSS surgeon to use a 3D-printed part developed through the Lima partnership.
Dr. Sculco also believes that the application of 3D printing technology will grow with the development of semi-customized implants. He likens the idea to a custom-made suit for which the client chooses between various design options, such as the width of the lapels or the type of vents in the back, as opposed to a totally bespoke suit. He also expects that as the cost of these implants decreases over time, additive manufacturing will be used to solve a growing number of orthopaedic challenges.
Despite the technology's promise, just because something can be 3D printed doesn't mean it should be — a point that's crystal clear to both the surgeons and engineers at HSS, as they look for cost-effective solutions that will produce the best outcomes for patients.
"You can 3D print anything," notes Dr. Wright. "You can 3D print a Tyrannosaurus rex toy for a child; you can see lots of examples on the internet. We're looking for those problems we know we haven't solved yet, and where additive manufacturing can help."
Tailoring Implants to the Finest Detail
HSS researchers are also studying how implant designs might be improved in the future.
Fernando Quevedo-González, PhD, who is part of Timothy Wright's team, uses computer modeling, expressed through colorful heat maps, to predict the success rate of different implants — including the currently used and largely unsuccessful metal replacement for the carpometacarpal joint. Bright red represents the most solid materials, while blue shows those that are most porous.
"The main focus of my work is trying to improve the bone-implant interaction," Dr. Quevedo-González explains. "The way they've done it in the past is by changing the geometry of the implant. With 3D printing, we can create porous materials, which means we can control almost everything in there, from the shape to the roughness to the porosity." This means it's possible to construct an implant that is biomimetic, porous titanium that imitates local bone structure, and can range from totally solid to completely porous.
Having the Lima facility right downstairs will be a huge advantage, notes Dr. Quevedo-González, who has developed an algorithm that helps determine when additive manufacturing is the best alternative to using off-the-shelf implants. "They have a huge expertise in 3D printing porous material," he says. "What we'll have to figure out is, what is the porosity that works best for our implants? They will hopefully be able to manufacture that."
Back to HSS Annual Report 2018-19