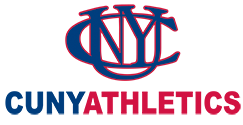 City University of New York Athletic Conference
HSS has served as the official hospital for the City University of New York Athletic Conference for more than 10 years. HSS has been dedicated to the CUNY students throughout the years through its sponsorship commitment, along with the professional service to our Athletic departments.
Each year the focus has been on increased support, as the sponsor of the CUNYAC Scholar-Athlete of the Month, which is awarded throughout the academic year to the best scholar-athletes in the CUNY system. The award is certainly among the highlights of the month, with the winning students achieving high academic status while balancing some outstanding athletic accomplishments. The academic-focused award is one of a kind in collegiate athletics as no other conference gives such an award.