Supporting all faiths, beliefs, traditions and cultures.
The Spiritual Care Department is available for your spiritual and emotional support and to serve and respond to your requests. The HSS Chapel is located on the first floor of the main hospital and is open 24/7 for people of all faiths and religions. Learn more about our Spiritual Care services.
The Spiritual Care Department through its multifaith Chaplaincy Service:
Provides multi-faith spiritual care and/or clergy of your own faith group.
Serves each person's specific religious needs for prayer and ritual/tradition.
Sssists patients in accessing their inner religious and spiritual resources.
Attends to the spiritual needs of patients and their loved ones even if they do not belong to a congregation or consider themselves religious.
Assists patients and their loved ones in coping with illness by supporting their spiritual needs.
Helps patients move toward renewed hope and peace.
Minister to staff.
Minister to patients and family.
HSS Chaplains are here to help anyone and everyone. Please feel free to contact us with any request or questions.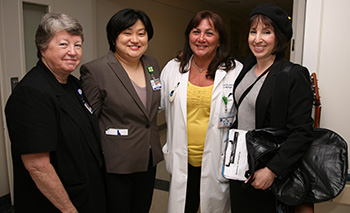 "Spirituality is the aspect of humanity that refers to the way individuals seek and express meaning and purpose and the way they experience their connectedness to the moment, to self, to others, to nature, and to the significant or sacred."
- Christina Puchalski, MD – Our 2012 Spirituality Forum Speaker – et al. 2009
Download the Spiritual Care Brochure.