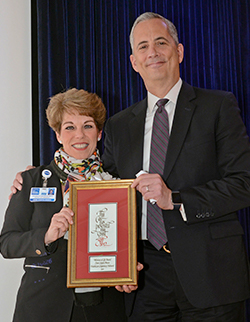 The Wholeness of Life award is presented annually by HSS and HealthCare Chaplaincy Network to an individual who is recognized for his or her years of providing compassionate care for patients and the dedication to promoting a balance of physical, mental and spiritual well-being.
In 2019, the 32nd annual Wholeness of Life Award was given to JeMe Cioppa-Mosca, Senior Vice President of Rehabilitation. As the recipient, JeMe joins a list of very deserving and distinguished individuals who have won over the years. A ceremony was held in her honor in late October, where colleagues, family and friends gathered together to celebrate how JeMe goes the extra mile in caring for the whole person in mind, body and spirit.
"Actions speak louder than words, and clearly your actions speak louder than any words I could offer," Lou Shapiro, President and CEO of HSS, said about JeMe. "At HSS, we have our values of excellence, passion, integrity, creativity and teamwork, and JeMe lives up to all of these. A few other words to describe JeMe are energy, commitment and persistence. But the best word and the word that is most relevant today is caring."
Not only has JeMe served as a fearless leader of her team, but she has shown that she sincerely believes in those around her, mentoring them to grow and develop to their fullest potential. She continues to demonstrate her commitment, passion and vision in guiding colleagues and forging a pathway to excellence in the Rehabilitation Department. She sets her goals high, but rarely takes credit, instead taking pleasure in seeing her team succeed.
Congratulations to JeMe on this well-deserved honor, and thank you for demonstrating great leadership in the way you approach your role, serving as a mentor and an inspiration to all.
Past Wholeness of Life Honorees
2018
Shevaun Doyle, MD
2017 Ann Bienstock
2016 Elizabeth Coleman
2015
David Y. Wang, MD
2014 Don Foiles
2013 Glenn W. Garrison, CPO
2012 Jillian Rose, LMSW
2011 Mary Ellen Zullo, PA-C
2010 Sherry I. Backus, PT, DPT, MA
2009 Edward Craig, MD
2008 Barbara Wukovits, RN, BSNC
2007 Janet Cahill, PT, CSCS
2006 Janet J. James
2005
Oheneba Boachie-Adjei, MD
2003 Mary McDermott, RN
2002
Douglas Green, MD
2001
Stephen A. Paget, MD
2000 Eulalee Green, RN
1999 Mary Dolan, RN
1998 Ometa Bourne-Ford
1997 Valerie Gray, RN
1996 Theresa Galsworthy, RN, ONC
1995
Leon Root, MD
1994 Geraldine Nicholson, RN, ONC
1993
C. Ronald MacKenzie, MD
1992 Marguerite Palmieri, RN
1991 Roberta Horton, ASCW
1990 Lorraine Mattes, RN
1989 Anita von Hellens, RN
1988
Michael D. Lockshin, MD
Back to Spiritual Care