The Wholeness of Life award is presented annually by HSS and HealthCare Chaplaincy Network to an individual who is recognized for his or her years of providing compassionate care for patients and the dedication to promoting a balance of physical, mental and spiritual well-being.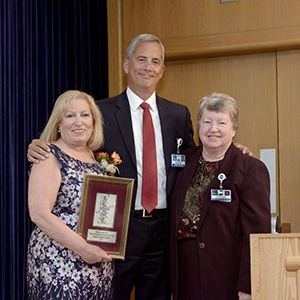 On September 7, 2017 a ceremony was held to recognize Ann Bienstock, ANP-BC, Nurse Practitioner, Occupational Health, as the 30th winner of the Wholeness of Life award at HSS. C. Ronald McKenzie, MD, Chairman of the Spiritual Care Committee, opened the ceremony with a welcome to all in attendance. Following, Sister Margaret Oettinger, Director, Spiritual Care, led the crowd in an opening prayer. "She makes a difference and has a good time doing it," Sister Margaret said. "We are grateful for the blessing of her enthusiasm and good cheer."
Lou Shapiro, President and CEO, then addressed the crowd to talk about the importance of the Wholeness of Life award at HSS and the qualities that make Ann such a deserving recipient, and also presented Ann with her award. After a video presentation highlighting her career and journey at HSS, Ann spoke to the crowd to thank those closest to her, including her husband and children, and describe what winning the award meant to her. "I knew I had to take care of all of you because you take care of everyone else. To me this is not just a job; this is what I do and part of who I am."
During her more than 17 years as a member of the HSS family, Ann has gone out of her way to treat everyone she meets with kindness and respect, providing a personalized holistic approach to healthcare. She is best known and loved by many for serving as the leader of our influenza vaccination campaign at HSS.
She ended with a reference to what she is most well-known for at HSS. "Next week is my favorite time of year so just roll up your sleeves and get your flu shot!" said Ann.
Wholeness of Life Honorees
| | |
| --- | --- |
| 2016 |  Elizabeth Coleman |
| 2015 |  David Wang |
| 2014 |  Don Foiles |
| 2013 |  Glenn W. Garrison, CPO |
| 2012 |  Jillian Rose, LMSW |
| 2011 |  Mary Ellen Zullo, PA-C |
| 2010 |  Sherry I. Backus, PT, DPT, MA |
| 2009 |  Edward Craig, MD |
| 2008 |  Barbara Wukovits, RN, BSNC |
| 2007 |  Janet Cahill, PT, CSCS |
| 2006 |  Janet J. James |
| 2005 |  Linda A. Russell, MD |
| 2004 |  Oheneba Boachie-Adjei, MD |
| 2003 |  Mary McDermott, RN |
| 2002 |  Douglas Green, MD |
| 2001 |  Stephen A. Paget, MD |
| 2000 |  Eulalee Green, RN |
| 1999 |  Mary Dolan, RN |
| 1998 |  Ometa Bourne-Ford |
| 1997 |  Valerie Gray, RN |
| 1996 |  Theresa Galsworthy, RN, ONC |
| 1995 |  Leon Root, MD |
| 1994 |  Geraldine Nicholson, RN, ONC |
| 1993 |  C. Ronald MacKenzie, MD |
| 1992 |  Marguerite Palmieri, RN |
| 1991 |  Roberta Horton, ASCW |
| 1990 |  Lorraine Mattes, RN |
| 1989 |  Anita von Hellens, RN |
| 1988 |  Michael D. Lockshin, MD |