The best view in the hospital
When HSS surgeons need a better view of a patient's orthopedic condition, they call on the Department of Radiology and Imaging and the scientists in the MRI Research Lab. Scientists in the lab are developing specialized MRI techniques to improve the capabilities of identifying osteoarthritis and other consequences of orthopedic injuries earlier than is currently possible by X-ray or CT scan. The objective of the lab is to be able to diagnose patients earlier in their disease and intervene before it is too late. This expertise provides a "noninvasive imaging microscope" that detects changes in tissue biochemistry and structural integrity with MRI.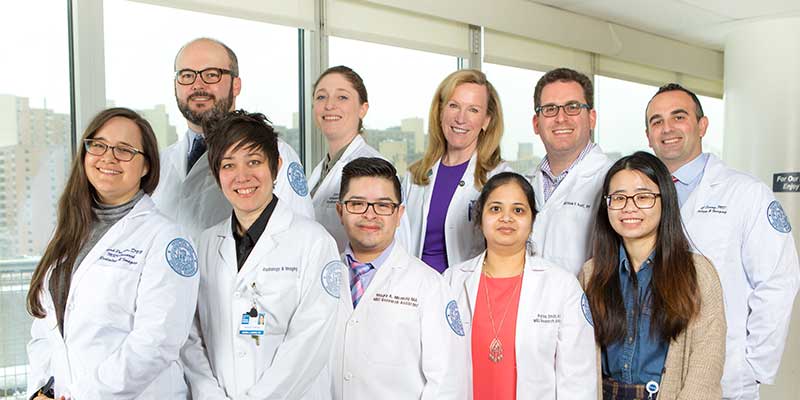 Members of the MRI Research Lab
The mission of the HSS MRI Research Lab is to perform novel MRI research to aid in the early diagnosis of orthopaedic conditions, the surgical planning, and the long term evaluation of patients with orthopaedic diseases.
The MRI Research Lab is a multidisciplinary group of researchers, including clinical MR radiologists, veterinarians, and biomedical engineers with expertise in both qualitative and quantitative MRI techniques that provide an accurate assessment of adverse bone, cartilage, fibrocartilage, and synovial conditions. The use of unique quantitative MRI techniques provides noninvasive insight into tissue biochemistry for application in detecting early tissue degeneration and assessing the integrity of tissue repair.
Ongoing research collaborations exist with Cornell's College of Veterinary Medicine in Ithaca, the Department of Physics at the Citigroup Biomedical Imaging Center of Weill Cornell Medical College, and the Department of Biomechanics, the Laboratory for Soft Tissue Research, and the Department of Orthopedic Surgery at HSS. These collaborations are the foundation for a diverse program of research, including imaging biomarkers of early articular and fibrocartilage matrix depletion, integrity of native meniscal repair and tissue engineered constructs, noninvasive assessment of ligament graft functional integrity, and early assessment of adverse tissue reactions around orthopaedic implants.
The program is fully translational to provide clinical implementation of prototype MRI pulse sequences to clinical use, providing a direct impact on the management of human patients at HSS and the veterinarian patients at Cornell Ithaca.
Back to HSS Radiology and Imaging
Back to HSS Research Institute