A warm welcome from the Patient Liaison Services Team
Our Family Atria for patients and visitors are located on each of our surgical and procedure floors. Each area is staffed by patient liaisons and volunteers who will greet you and are available throughout the day to answer your questions. We aim to make your visit as comfortable as possible.
When you arrive, please check in at our reception desk. If you are accompanying a patient and would like to leave the area, please leave a phone number with our liaison staff.
For your comfort and convenience, each of our Family Atria offers:
Complimentary cell phone charging stations
Complimentary coffee and tea (ask patient liaisons for more details)
Free Wi-Fi: HSSGuest
Newspapers and magazines
Vending machines
Pyramid Café (4th floor and lobby)
For information on area parking, restaurants, pharmacies, flower shops and many other services, please ask for a copy of our Neighborhood Guide. At HSS, cafés are located in the lobby and the 4th floor of the main Hospital and on the ground floor of the Belaire Building.
Contact Information
Ambulatory Surgery (9th floor): 212.774.2179
Same Day Surgery (4th floor): 212.774.2201
Hand and Foot Center (1st floor): 646.797.8545
Special Procedures Unit (429 E. 75th St.): 646.714.6768
24-Hour Patient Information: 212.606.1377
We welcome your feedback! Contact us at serviceexcellence@hss.edu.
Neighborhood Guide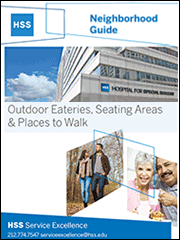 Outdoor Seating Areas & Walks Near HSS Map
Please note that some neighborhood services or business hours may have changed due to COVID.
Surgery Center Guides