The Non-surgical Foot and Ankle Service is dedicated to evaluating the majority of foot and ankle problems that often can be treated successfully without surgery. It is a unique service dedicated to providing non-surgical treatment for foot and ankle problems and is the very first in the greater New York area located at a major teaching hospital dedicated to orthopedic/musculoskeletal care and research.
Sports-related injuries include heel and achilles pain, ankle sprains, shin splints, bunion pain, metatarsal pain, neuroma, sesamoid bone, stress fractures, overuse injuries, tendon problems, and all musculoskeletal injuries involving the foot and ankle.
The service is nationally renowned for its expertise in the design and fabrication of prescription foot orthotics used to treat many orthopedic foot and ankle problems. In addition, foot orthotics are prescribed to treat biomechanically related problems involving the knee, hip, and lower back, as these conditions are often responsive to the stability and improved mechanics that these devices provide.
Sport-specific orthotics designed to both improve athletic performance and reduction of sports-related injury are also prescribed for running, tennis, squash, golf, basketball, alpine and cross-country skiing, cycling, spinning, soccer, lacrosse, hockey and figure skates, in-line skating, and hiking.

In addition, prescription foot orthotics are made for a variety of women and men's dress and casual shoes including pumps, loafers, flats, lace and specialty theatrical performance devices.
The service treats non-surgical fractures of the foot/ankle and has a direct affiliation and access to the Sports Medicine Institute, the Orthopedic Trauma Service (OTS) at HSS and NewYork-Presbyterian/Weill Cornell Medical Center, and the Limb Lengthening and Complex Reconstruction Service. The service also has affiliation with the Department of Cardiothoracic Surgery at NYP-WCMC, Department of Medicine/Endocrinology at NYP-WCMC, Department of Obstetrics and Gynecology at Weill Cornell Medicine, as well as being foot and ankle consultant in the orthopedic service of the Department of Surgery at Memorial Sloan Kettering (MSKCC).
The Non-surgical Foot and Ankle Service provides access to state of the art diagnostic testing that includes diagnostic ultrasound, computerized motion and gait analysis, bone densitometry, MRI, CAT scan, X-rays, and bone scans.
In situations where the foot/ankle problem is not responsive to conservative/non-surgical care, or when surgical intervention is necessary, referral is made to the appropriate surgical specialist.
Joe DiMaggio Heel Pain Center at HSS
The Joe DiMaggio Heel Pain Center (JDHPC), a division of the Non-surgical Foot and Ankle Service that is located at the main campus of Hospital for Special Surgery (HSS), has revolutionized non-surgical foot, heel and ankle care. The JDHPC was founded by Dr. Rock Positano and was based, in part, on the clinical research completed by Dr. Positano during his studies at the Yale School of Medicine/Yale School of Public Health, where Dr. Positano now holds a clinical faculty appointment. His thesis on Foot Health was approved "With Honors" and "With Distinction" by the faculty of the Yale School of Medicine. The JDHPC was named in honor of his former patient, New York Yankees legend and American Icon Joe DiMaggio.
In 1990, Joe DiMaggio was still suffering from heel pain -- the result of a sports injury and unsuccessful surgery that prematurely ended his celebrated baseball career back in the late 1940's and one that was chronicled by Ernest Hemingway in his novella, "The Old Man and the Sea." A friend suggested that he see Dr. Positano, a pioneer in the non-surgical treatment of heel injuries and pain. Following a non-surgical treatment regimen, DiMaggio was pain free for the first time in decades. As his treatment progressed, his friendship with Dr. Positano grew. DiMaggio has been quoted as saying to Yankee legendary owner George Steinbrenner that if DiMaggio had seen Dr. Positano 50 years earlier, DiMaggio would have added years to his baseball career.
DiMaggio was so impressed with Dr. Positano's non-surgical approach and the reputation of the Sports Medicine Division at HSS that he urged Dr. Positano to devote his academic and clinical career to developing non-surgical foot and ankle care treatment programs. DiMaggio wanted to spare others from the suffering he incurred from the aggressive surgical treatment for his heel injury. DiMaggio's encouragement was the inspiration for Dr. Positano's comprehensive orthopedic textbook, "Disorders of the Heel, Rearfoot, and Ankle," which was authored/edited with famed orthopedic surgeon Dr. Chit Ranawat and published by Churchill Livingston. DiMaggio's encouragement was also the impetus for the founding of the JDHPC, where thousands of other patients with heel pain have benefited from the same successful treatment DiMaggio received for his infamous heel injury.
Dr. Positano has been seeing increasing numbers of patients with heel pain who have been misdiagnosed as having plantar fasciitis, a common cause -- but not the only one. Clinicians often make this diagnosis when, in fact, their patients may be suffering from more serious conditions such as plantar fascia tears, Achilles tendon injury, heel fibromas, heel pad injury, ligament tears, or even a cancer that has metastasized to the heel bone, an area very rich in blood supply.
The standard treatments for plantar fasciitis will not only fail to work in these cases, they can make the problem much worse by not addressing the underlying condition and the wrong diagnosis and treatment can increase a patient's suffering and impact on their quality of life. The incorrect diagnosis can result in unnecessary surgery and increased pain often leading to inactivity and other detrimental lifestyle changes. This can trigger and make worse serious health issues, including cardiovascular disease, high blood pressure, Type 2 diabetes, obesity, osteoporosis, and depression.
In fact, heel pain is responsible for an estimated 1 million patient visits a year. Dr. Positano was recently the lead investigator of a clinical heel pain study that was published in a peer-reviewed podiatric orthopedic journal.
About Dr. Rock Positano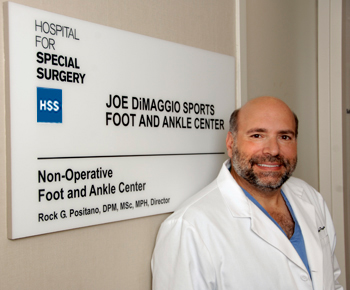 Dr. Rock G. Positano, the Director and Founder of the Non-surgical Foot and Ankle Service, was a weekly health columnist for the New York Post, New York Daily News, Huffington Post and a Sports Medicine Consultant (Foot and Ankle) for The Associated Press.
Selected Books by Dr. Positano
Disorders of the Heel, Rearfoot, and Ankle
Foot and Ankle Sports Medicine
Atlas of Foot and Ankle Sonography
Medical Clinics of North America - Environmental Medicine
Clinics in Podiatric Medicine and Surgery - Applied Biomechanics
Clinics in Podiatric Medicine and Surgery - Occupational Medicine
Clinics in Podiatric Medicine and Surgery - Nail Disorders
Systemic Disease Manifestations in the Foot, Ankle, and Lower Extremity
Pocket Foot and Ankle Medicine and Surgery
Medicina y Cirugía de Pie y Tobillo de Bolsillo
Dinner with DiMaggio
Multiple Sclerosis for the Non-Neurologist
Foot and Ankle Pain Management (in press)
Disorders of the Foot and Ankle Chapter in New Edition of Harrison's Principles of Internal Medicine
Selected Publications
Dufour AB, Halpern BC, Positano RG, et.al. Foot Pain in Relation to Ipsilateral and Contralateral Lower Extremity Pain in a Population-based Study: The Framingham Foot Study. Journal of the American Podiatric Medical Association. July 2017, Vol. 107, Issue 4, pp. 301-312.
Argerakis NG, Positano RG, Positano RC, et al. Ultrasound Diagnosis and Evaluation of Plantar Heel Pain. Journal of the American Podiatric Medical Association: March 2015, Vol. 105, No. 2, pp. 135-140.
Nguyen U-SDT, Dufour AB, Positano RG, et al. The Occurrence of Ipsilateral or Contralateral Foot Disorders and Hand Dominance: The Framingham Foot Study. Journal of the American Podiatric Medical Association. 2013;103(1):16-23.