Rock G. Positano, DPM, MSc, MPH, Director

Spanish: Español (pdf)
Italian: Italiano (pdf)
French: Français (pdf)
German: Deutsch (pdf)
Portuguese: Português (pdf)
Turkish: Türkçe (pdf)
Greek (pdf)
Japanese (pdf)
Chinese (pdf)
Arabic (pdf)
Korean (pdf)
The Non-surgical Foot and Ankle Service is dedicated to evaluating the majority of foot and ankle problems that often can be treated successfully without surgery. It is a unique service dedicated to providing non-surgical treatment for foot and ankle problems and is the very first in the greater New York area located at a major teaching hospital dedicated to orthopedic/musculoskeletal care and research.
Sports-related injuries include heel and achilles pain, ankle sprains, shin splints, bunion pain, metatarsal pain, neuroma, sesamoid bone, stress fractures, overuse injuries, tendon problems, and all musculoskeletal injuries involving the foot and ankle.
The service is nationally renowned for its expertise in the design and fabrication of prescription foot orthotics used to treat many orthopedic foot and ankle problems. In addition, foot orthotics are prescribed to treat biomechanically related problems involving the knee, hip, and lower back, as these conditions are often responsive to the stability and improved mechanics that these devices provide.
Sport-specific orthotics designed to both improve athletic performance and reduction of sports-related injury are also prescribed for running, tennis, squash, golf, basketball, alpine and cross-country skiing, cycling, spinning, soccer, lacrosse, hockey and figure skates, in-line skating, and hiking.

In addition, prescription foot orthotics are made for a variety of women and men's dress and casual shoes including pumps, loafers, flats, lace and specialty theatrical performance devices.
The service treats fractures of the foot/ankle and has a direct affiliation and access to the Sports Medicine and Shoulder Service, the Orthopedic Trauma Service (OTS) at Hospital for Special Surgery and New York-Presbyterian Hospital/Weill Cornell Medical Center, and the Limb Lengthening and Deformity Service.
The Non-surgical Foot and Ankle Service provides access to state of the art diagnostic testing that includes diagnostic ultrasound, computerized motion and gait analysis, bone densitometry, MRI, CAT scan, X-rays, and bone scans.
In situations where the foot/ankle problem is not responsive to conservative/non-surgical care, or when surgical intervention is necessary, referral is made to the appropriate surgical specialist.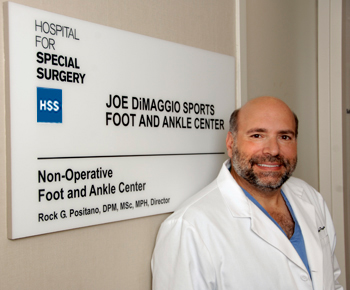 Dr. Rock G. Positano, the Director and Founder of the Non-surgical Foot and Ankle Service, is a weekly health columnist for the New York Post and a Sports Medicine Consultant (Foot and Ankle) for The Associated Press. He was also prominently featured in a front page Sunday New York Times article (December 7, 2003) concerning the dangers of cosmetic foot surgery.