Cornell Engineering Magazine—September 21, 2008
Seen through an engineer's eyes, the human body is an incredible machine made of muscle and bone - animated by that mysterious thing called soul or consciousness to be sure - but subject to exactly the same physical laws as a bridge, a motor, or a microchip.
For 30 years, the Cornell - Hospital for Special Surgery Program in Biomechanical Engineering has brought engineers and surgeons together to unravel the secrets of this complex contraption. Their work has helped hundreds of thousands of patients, and the promise of more improvements lies just over the horizon.
Though he says he had no intention of being labeled a biological engineer when he joined Cornell in 1969, Don Bartel became the first director of the program. Eventually he was given a dual appointment, with HSS paying a portion of his salary. Cornell used the money saved to build the biomechanics group, which has grown to include five faculty members, a research support specialist, and a postdoc.
Bartel had been working with the researchers at HSS, the orthopedic affiliate of what is now Weill Cornell Medical College, since the early 1970s. "I've always worked within a clinical setting and I think I'm just built that way," says Bartel, the Willis H. Carrier Professor Emeritus in the Sibley School of Mechanical and Aerospace Engineering. "I like working on things that make a difference in the short term. I guess it was natural I would seek out the others."
The partnership really flourished after HSS hired Albert Burstein, now famous as a co-developer of the Insall-Burstein knee implant, to set up its biomechanics department.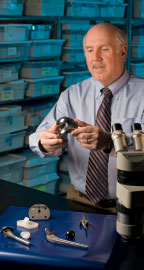 "The whole idea was, we had a group of engineers that would be in a vacuum without a connection to an engineering school and at Cornell, there was a group getting into biomechanics that would have the ability to access a rich clinical and biomedical research environment down here," says current HSS Department of Biomechanics Director Timothy Wright, who was hired as a postdoc the same year the program was established. "And it's been an incredibly productive collaboration."
Besides stimulating research, the interactions between Cornell and HSS are an invaluable educational resource.
"We have grad students in Ithaca working on computational models from which they learn an awful lot of medicine. And the orthopedic research fellows who collaborate with them down here learn an awful lot about engineering," says Wright." It's exactly what the program is designed to do - get graduate students, medical students, engineering faculty, surgeons, all in the same room trying to solve a clinical problem."
This article originally appeared at engineering.cornell.edu.