U.S.News & World Report—July 15, 2007
These days, people in their 50s and even younger are discovering that the athletic sins of their youth have made them candidates for knee replacement. Not long ago considered a remedy mainly for old people whose elderly joints are crippled by arthritis, new knees increasingly are finding their way into aging baby boomers. After jogging, skiing, and hitting the tennis courts for decades, many find that knee injuries they sustained in their 20s and 30s—remember that torn anterior cruciate ligament?—may have damaged the cartilage that protects their bones from rubbing against each other, setting the stage for early arthritis.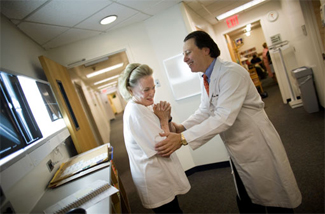 About half a million knees a year are being replaced, far more than any other joint. The procedure is straightforward. The orthopedic surgeon removes up to half an inch from the bottom end of the femur (thighbone) and top end of the tibia (shinbone), fits them with sturdy metal or ceramic caps, and snaps a high-density plastic cushion between the two as substitute cartilage. Some patients are back on the golf course within two months. Doctors discourage joint-jarring activities like jogging, volleyball, or singles tennis for patients with artificial knees, but many people can and do safely return to favorite activities like hiking, biking, and even doubles tennis.
The operation should be carried out only at a facility where it has become routine.  Hospital for Special Surgery in New York City performed some 2,500 knee replacements in 2006. Steven Haas, M.D., MPH, chief of the knee service, needs a little more than an hour for a minimally invasive version done through a small incision. Knee replacement can bring an end to years of crippling pain. "Ninety-five percent of the people I treat feel much better after having surgery," he says. "How great is that?"
Something in the Way They Move
Shinbone to knee bone, knee bone to thighbone. The arrangement of the parts is poetic, but their performance, for some people, can be less than lyrical. At Hospital for Special Surgery's Leon Root, M.D. Motion Analysis Laboratory, experts evaluate movement and muscle patterns. The information helps physicians decide the kind of clinical intervention—surgery, physical therapy, or a brace, for example—that will best address a particular patient's structural difficulties.
A free-standing slab of concrete 2 feet thick with 10 cameras mounted along its inner perimeter is the lab's nerve center. It rests on dirt, and there is no connection to the building, so vibrations that might interfere with the tests are damped out.
The cameras record patients' movements from reflective markers attached to their bodies and relay the information to computers that analyze in three dimensions how their joints bend as they walk or climb stairs, for example, and whether their muscles are contracting as they should. The patients who come here and the conditions they bring are as different as a child with cerebral palsy and a baseball player with a shoulder injury.
As would be expected, the lab is also a research tool, but a practical one. In one current project, researchers are analyzing gait and muscle strength in knee replacement patients who had either traditional open surgery or minimally invasive surgery. "The hope is that not only is there a smaller scar with minimally invasive surgery but that there's a return to normal function more quickly," says Howard Hillstrom, Ph.D., director of the lab. Less pain, more gain.