New York, NY—July 7, 2016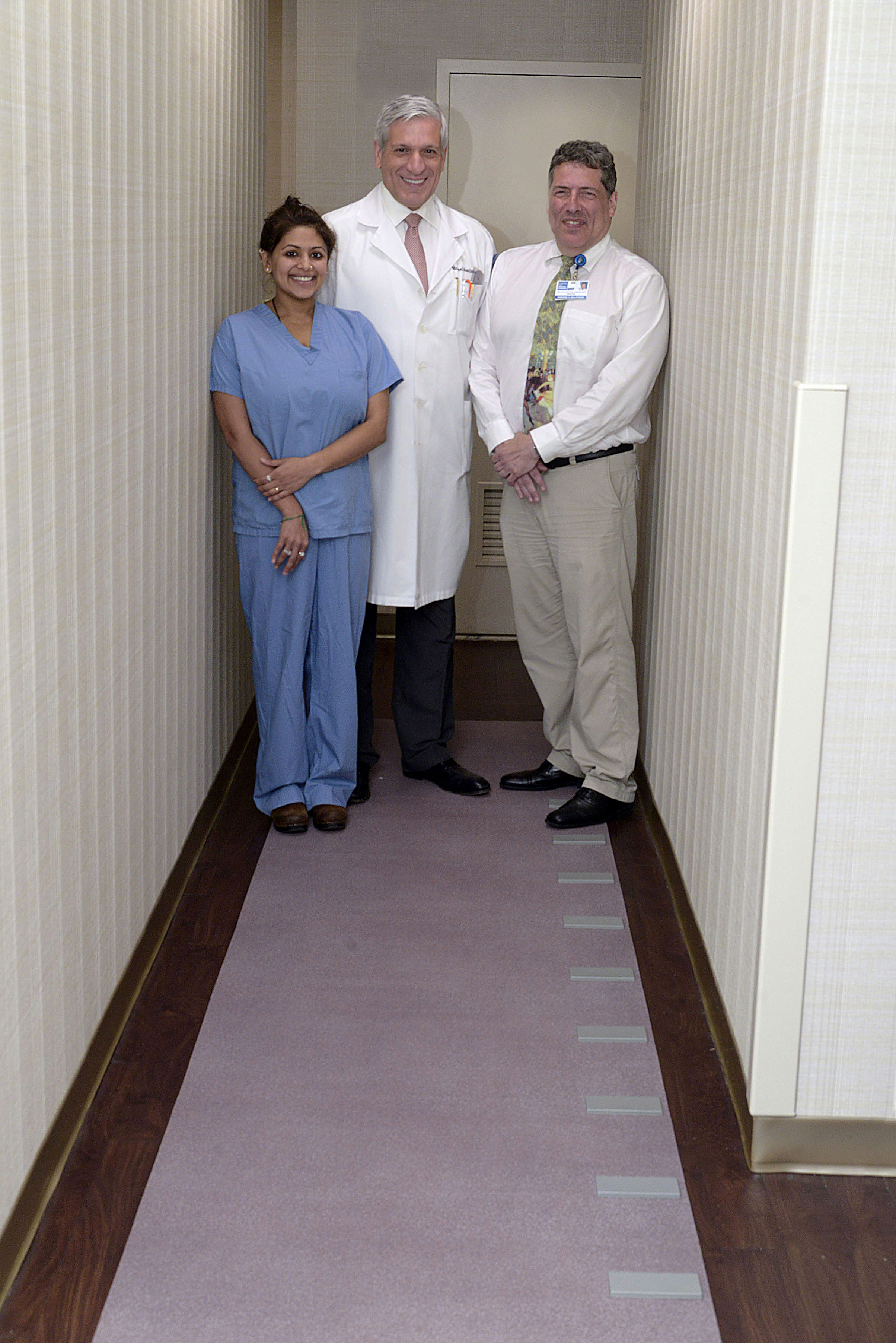 HSS study investigators with the portable gait analysis. Researchers at Hospital for Special Surgery (HSS) have launched a study using a portable gait analysis mat to determine early outcomes of several different hip replacement techniques. Gait analysis provides information about the way an individual walks.
Investigators will test patients' walking patterns both before and after total hip replacement to measure their progress after four different surgical techniques: (1) standard hip replacement (posterior approach with small incisions); (2) direct anterior hip replacement; (3) robotic-assisted posterior; and (4) robotic-assisted anterior. The researchers seek to determine if a specific technique leads to a quicker recovery in terms of pain relief and walking patterns.
"There are various surgical approaches for a physician to consider when performing hip replacement, and among those, the direct anterior and traditional posterior have been compared extensively to determine if one approach may be superior to the other. But there is currently no literature that explores the outcomes of robotic-assisted hip replacement compared to the anterior and posterior approaches," said Michael M. Alexiades, MD, an orthopedic surgeon at Hospital for Special Surgery and principal investigator. "To the best of our knowledge, this study will be the first to compare all four approaches in one study."
The research will focus on how patients fare early in the healing process. They will be evaluated for pain and function before surgery and again six weeks after hip replacement.
While pain relief may be the number one priority for most hip replacement patients, their walking patterns after surgery are also an important indicator of progress. The mobile gait analysis system is a key feature of the study.
"Patients' walking patterns are very important. If they are not walking symmetrically or have abnormal patterns because of weakness or another issue, they may be compensating by putting pressure on their spine or other joints," said Rupali Joshi, PT, PhD, study co-investigator. "In addition to objectively analyzing functional outcomes after hip replacement, the system will allow us to tailor a physical therapy program or provide specific exercises to help patients overcome weaknesses and develop a normal walking pattern."
"We expect almost everyone to walk without pain in a relatively symmetrical manner six to 12 months after hip replacement," noted Howard Hillstrom, PhD, director Leon Root, MD Motion Analysis Laboratory at HSS. "By looking at outcomes six weeks after hip replacement, we are seeking to determine if one surgical technique enables patients to achieve a more pain-free, natural and symmetrical gait pattern more quickly."
The mobile gait analysis system consists of an electronic walkway - the mat - that contains thousands of sensors to analyze various aspects of the way a person walks. It is connected to a laptop computer with special software that measures cadence, speed, step length and other gait parameters. Data and images of the gait pattern are processed, recorded and stored in the computer. The walking test takes less than five minutes.
Not only is it an exciting technology; the mobile system is also very convenient, facilitating the collection of data for research studies, according to Dr. Joshi. Traditional gait analysis at HSS entailed a trip to the hospital's Motion Analysis Laboratory at a location outside of doctors' offices. Because the mat is portable, it can be available right in the physician's office.
Investigators aim to recruit a total of 80 patients, with 20 participants in each group for the study. Dr. Alexiades notes that researchers will seek to launch a larger study at a later date.