Nancy's Story
I started gymnastics when I was six years old, competed from nine to sixteen years, ran track, was a cheerleader in high school, played USVBA volleyball as a young adult, and became a rock climber at twenty-four. I had the sprains, strains, pulled muscles, bumps and bruises of a typical athlete, but nothing could prepare me for the dramatic accident I had on the cliff.
At 26, I was rock climbing in the Trapp Rocks in Connecticut when I slipped and fell…not to the ground, but back into the cliff. I was caught by the protection I had placed into the rock face, and as I fell I became a pendulum - the impact of my fall was taken by my left heel, breaking the talus and dislocating my ankle.
It took four hours to get to a local hospital; more than 24 hours to finally arrive at the hospital near my home and have emergency surgery.
The next morning, my surgeon stood at the foot of my bed and told me I had a 50% chance of walking normally again. No more running, no jumping, no volleyball, no skiing, no walking? I was devastated.
Over the next few years I adapted to a less-than-perfect ankle. I found I could use it, although it would swell and hurt if I used it too much. Thankfully I could hike and play tennis, and I discovered competitive west coast swing dancing.
During this time I was living in Southern California and had more and more trouble with my ankle. I saw an orthopedist who diagnosed arthritis and bone spurs, which was limiting my range of motion. I had surgery to clean up the bone spurs and detritus in the joint fluid and was told, "You have only so many hours to the joint; you'll eventually have to fuse it." He described fusion as a completely immobile ankle joint: I cried when I heard that news.
Fast-forward another five years and the bone spurs came back with an even greater limit to mobility. I developed an "equinus deformity" which meant that I could only walk on my toes. I had huge orthotics which made it difficult to buy shoes and sneakers and wore heeled shoes only. My ankle joint also became very painful and swollen, even with typical use like shopping at the mall. I was afraid of my future, worried that I would limp and be in pain for the rest of my life.
By that time I moved to Rochester, NY and saw a local ankle specialist. Her advice, too, was to fuse my ankle, OR, as she had just recently met Dr. S. Robert Rozbruch at an orthopedics conference, see if he could help me.
I went on the Institute for Limb Lengthening's website and saw the miracles that Dr. Rozbruch and his staff perform for people like me and not like me. I saw myself in their stories and hoped that I would find an answer to my ankle problems and reclaim the athletic life that I want to lead.
I had grown up outside of New York City and my mother still lived there, so it was easy for me to make an appointment to see him. The office staff was professional, helpful, informative and easy to work with.
And when I met Dr. Rozbruch, I was struck by how incredibly compassionate and down to earth he is; he read my X rays, listened to my story and told me how he could help me.
I was so relieved; here was a surgeon who had an alternative to immobile fusion – Dr. Rozbruch had experience with deformities like mine and was cautiously confident that he could help save my ankle. I liked his realism and caution; he told me what was involved in the process: the surgery (ankle distraction, nerve release and Achilles tendon release), the time frame, the external fixator and the incredible results he's had with patients like me. He even told me that he would "seed" my joint with stem cells from my hip to create new cartilage in the joint. Amazing! I couldn't wait to get started.
I scheduled surgery in the summer of 2009 and I remember waking up to see the external frame for the first time. It was such a strange contraption! I called it my Frankenfoot – and to me, it was the device of miracles.
While wearing the frame, I had some interesting experiences. Some people behaved so strangely around me, looking at it (and me) with fear or dread in their eyes. It was quite disconcerting at times.
My husband, though, is an artist, and he had the brilliant idea of decorating the fixator. He bought pipe cleaners and ribbon; we had a grand time weaving color all over it. The perfect topper was a Jack in the Box™ clown head that I stuck onto the front of it, complete with orange hair sticking out.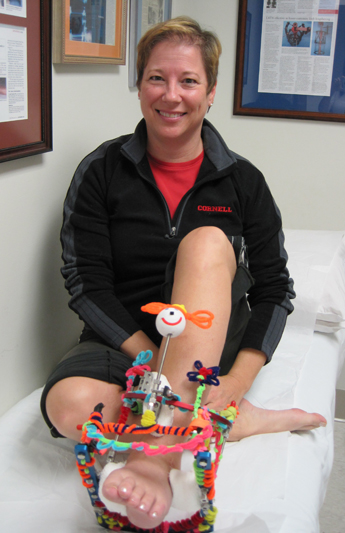 Having a decorated fixator completely changed my experience. No more frowns and fear; now people smiled, commented on my fabulous "mobile sculpture" and were curious. Now I had a chance to talk about Dr. Rozbruch, my miracle surgery, the process I was going through and the results I expected.
Twelve weeks later my frame was removed; my husband plans on turning it into a clock sculpture to represent the time I spent healing.
In the meantime, I've been working with a sports medicine physical therapist. My range of motion has dramatically improved; my ankle is in positions it hasn't been in for 23 years. I stretch and strengthen daily and my results are fantastic. Dr. Rozbruch says that I should continue to improve in overall joint health and range of motion with time; what more could I ask for?
Dr. Rozbruch and his staff are always helpful, informative and responsive. He is an amazing surgeon, a miracle worker who has saved my life, and I am incredibly grateful to him and his team. Dr. Rozbruch had the answer for me and I'm sure he'll have an answer for you, too.
You may contact me directly if you have any questions regarding my experience at nnapurski@lionheartpr.com.