Nicholas Sama, MD at HSS Florida
Orthopedic Surgery, Trauma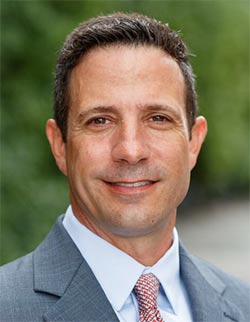 Dr. Nicholas Sama is an orthopedic surgeon specializing in reconstructive surgery, trauma injuries, and complex fractures in the arms and legs. This includes open reductions and internal fixations of fractures and nonunions. He provides comprehensive care for trauma patients and those who need surgery, as well as those who do not require surgery and have non-operative or arthritic conditions.
Dr. Sama is a published author and researcher, as well as an award-winning physician. He is a Castle Connolly Top Doctor and a Vitals Patients' Choice Award, On-Time Doctor Award and Compassionate Doctor Award winner. He attended medical school at the University of Miami and has been active in the South Florida medical community since 2005.
In his practice, Dr. Sama provides detailed explanations and instructions to ensure patients understand their options and treatment. He has performed surgery for professional and amateur athletes, as well as those who have injuries not related to sport activities. His overall goal is to restore function and help alleviate pain to improve or preserve quality of life – no matter the level of activity.
Nicholas Sama, MD, Orthopedic Specialties
Dr. Sama specializes in the following conditions and treatments:
orthopedic trauma
open reduction and internal fixation of fractures about the clavicle, humerus, radius, ulna, femur, tibia and fibula
open reduction and internal fixation of fracture non unions
Notable Awards
Below are some of the notable awards won by Dr. Sama for his care and expertise as an orthopedic trauma surgeon.
Castle Connolly Top Doctor Award 2017, 2019
Vitals Patients' Choice Award 2010-2018
Vitals Patients' Choice Award 5 year Honoree 2014-2018
Vitals On-Time Doctor Award 2014-2018
Vitals Most Compassionate Doctor Award 2010, 2012-2018
Alpha Omega Alpha National Honors Society
Alpha Epsilon Lambda National Leadership Society
Golden Key National Honors Society
Patient Stories