Research demonstrates that disparities in health and healthcare are pervasive in the United States. The Institute of Medicine and The Joint Commission report that implicit bias contributes to these disparities. Implicit biases are unconscious and unintentional assumptions that are based on different factors, including age, race, ethnicity, religion, culture, sex, sexual orientation, gender identity, language, body mass index, economic status, etc. Research also shows that everyone has such unintended biases, which are based on our individual life experiences and perceptions. In healthcare, these biases can have an impact on medical decision-making, communication and provider-patient interactions. These implicit biases may impede optimal patient care and outcomes and, ultimately, are detrimental to health equity.
In alignment with the Hospital's Strategic Roadmap to 2020, and with the goal of sustaining our leadership in providing the highest quality of musculoskeletal care for all patients, this presentation addresses the unintended factors and consequences associated with implicit bias. The goal is to improve our definition of "better" by helping colleagues recognize, understand and look beyond their own implicit biases in order to enhance communications with patients and improve care.
Click on the image below to view the March 27, 2017, presentation.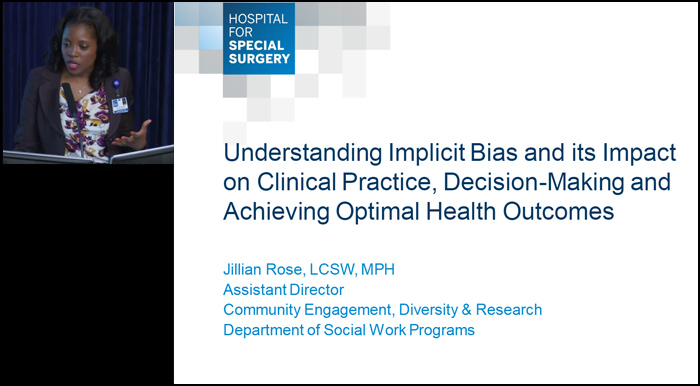 Learning Objectives:
Understand the meaning of implicit bias, its mechanisms, and how it can impact our perceptions, behaviors and decision-making as we provide care to patients
Using an evidence-based lens, explore the effects of explicit bias versus implicit bias in healthcare
Identify provider and patient factors related to implicit bias that can have an impact on optimal healthcare
Identify tools to enhance our awareness of our own implicit biases and unconscious thinking and behaviors
Learn specific strategies to help practice more conscious awareness and to identify unconscious assumptions and behaviors that may have an impact on patient-centered care
Become familiar with additional relevant resources
About Jillian Rose, LCSW, MPH
Jillian Rose is the Assistant Director for Community Engagement, Diversity and Research at Hospital for Special Surgery (HSS). Among her responsibilities, Ms. Rose develops and implements hospital-wide training on working with multicultural populations and fostering an inclusive environment for the LGBT and LGBTQ (lesbian, gay, bisexual, transgender and questioning/queer) community. A member of the Disparities Research Committee at HSS, she is a co-investigator on a national study, training research coordinators at nine hospital centers focused on engaging Latina and African American women in examining their treatment options for knee osteoarthritis, using a shared decision-making tool.
Ms. Rose provides ongoing leadership and support for the Hospital's collection of gender identity, and race, ethnicity and preferred language data. In addition, Ms. Rose plays an integral role in the HSS Community Health Needs Assessment and Community Service Plan. Since 2005, Ms. Rose has had oversight over Charla de Lupus (Lupus Chat)® and LupusLine®, nationally recognized peer support and education programs for people with systemic lupus and their families, where her team reaches out to diverse populations.
Ms. Rose also contributes her expertise through professional presentations and public forums, such as the Office of Minority Health's Leadership Summit, the Movement is Life National Caucus on Arthritis and Musculoskeletal Health Disparities, the American College of Rheumatology, and the Greater New York Hospital Association. In these endeavors, Ms. Rose shares innovative and evidence-based interventions to promote health equity.
Posted: 7/24/2017
Authors
Sponsored by The Department of Social Work Programs
Other resources