The information below is excerpted from Your Pathway to Recovery: A Patient's Guide to Total Joint Replacement Surgery (Hip and Knee), which can be found in its entirety at the bottom of this page.
A Closer Look at Total Hip Replacement Surgery
To understand THR, you should be familiar with the structure of the hip joint, a ball-and-socket joint. The ball component is attached to the top of the femur (long bone of the thigh). The acetabulum (socket) is part of the pelvis. The ball rotating in the socket permits you to move your leg forward, backward and sideways, i.e., in all planes of motion.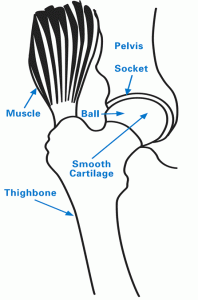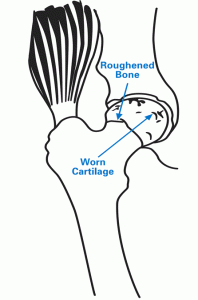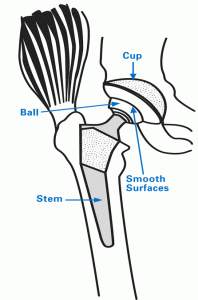 With a healthy hip, smooth cartilage covering the ends of the thigh bone and pelvis allows the ball to glide easily inside the socket.
With a problem hip, the worn cartilage no longer serves as a cushion. As the diseased or damaged bones rub together, they become rough, and the resulting pain causes difficulty in walking.
THR consists of replacing the worn out socket with a durable plastic or polyethylene cup with or without a metal titanium shell. The femoral head is replaced with a chromium-cobalt alloy metal ball that is attached to a metal stem of titanium or chromium cobalt metal alloy.
There are several ways to fasten the components (implant to the bone) during the hip replacement procedure. With a cemented THR, the prosthesis is held in place by bone cement. In a non-cemented THR, fixation occurs as the bone grows on and into the implant surface.
Bearing surfaces include metal-on-polyethylene (plastic), ceramic-on-ceramic, and metal-on-metal. The most commonly used FDA-approved bearing surface is metal with highly cross-linked polyethylene. The best bearing surface for you will be decided in consultation with your surgeon.
Clinical and biomechanical research has steadily improved the methods and materials available for THR. Prosthesis durability varies with the usage demands of each patient.
Things to Do Before You Come to the Hospital
Be sure you understand all preoperative instructions. If you have questions or concerns, please discuss them with your surgeon or call the HSS Patient Education team at 212.606.1263.
Before your surgery, you will be scheduled for an appointment appointment with an internist at HSS who will:

Review and/or perform any necessary diagnostic tests.
Provide medical clearance for the surgical procedure.

Unless you are told otherwise, continue to take medication already prescribed by your own physician.

Consult your physician regarding aspirin products. Patients with cardiac stents should continue to take their aspirin or other blood thinning products.

Extremely Important:

Always have a list of your current medications and the dosages to ensure that the correct medication and dosage can be prescribed for you while you are in the Hospital. You should also have contact information for your local physician, and any details on medical information, allergies or past reactions to anesthesia.

You will also be scheduled for presurgical testing approximately 1 to 3 weeks prior to surgery where:

You will check in on the first floor to Patient Access Services on the day of your presurgical testing.
The presurgical screening staff will perform routine diagnostic testing to be sure you are ready for surgery, including taking a blood sample for testing, a urine specimen and an electrocardiogram (EKG)
You should bring a list of current medications and a detailed account of prior medical, surgical and family health history.
The nursing staff will request and review information as part of a comprehensive medical history to add to your patient database profile.
The nursing staff will provide instruction on preparation for surgery.

HSS staff will make an appointment for you to attend the preoperative patient education class. The class is approximately 60 to 75 minutes long. During the class, patient educators will:

Review the surgical process.
Discuss setting realistic expectations, patient safety, mobility, pain management and the prevention of complications (infection and blood clots).
Provide information about:

Skin preparation, nutrition and diet restrictions before surgery
The preoperative patient phone call and how patients obtain general presurgical information.

The preoperative phone call to the patient the day before surgery will include:

Specific medication and diet instructions.
The time and place to arrive.

You may wish to review and plan your post-Hospital care with Case Management Services (212.606.1271) before admission. The Preadmission Program offers patients and their families the opportunity to receive assistance before the patient is admitted for surgery. This program enables you to plan your hospitalization and discharge needs in a timely, comprehensive manner.
Prepare for your return home from the Hospital. It helps you maximize your options and make decisions in a more relaxed way.
Before your admission, please complete the Health Care Proxy form and bring it with you on the day of admission. (Or bring one you may already have previously completed.) This is a form authorizing another person, designated by you, to make decisions with your physician about your care, should this become necessary.
A nurse from the Call Center will contact you one business day prior to your surgical date (Friday for Monday surgical cases) with more detailed instructions, usually between 1:00 pm and 7:00 pm.

All patients must call the hospital's presurgical information line at 212.606.1630 and listen to a pre- recorded message within 48 hours of your scheduled surgery for general instructions and a review of the pre-Hospital process.

Wash the surgical area (front, side and back) with the antiseptic soap solution at the end of your last bath or shower before surgery. The solution should be rinsed and removed after application. Do not shave your legs the day before or the day of surgery. Specific instructions will be provided at the presurgical screening appointment, the preoperative education class and during the preoperative phone call.
Please DO NOT bring the sleep apnea machine. Patients with sleep apnea are generally required to stay overnight in the Post- Anesthesia Care Unit (PACU) to be monitored and observed. Do not bring in the machine, but please bring in the mask, tubing and settings.
The use of nicotine products (i.e., cigarettes, cigars, gum or patches) has been shown to increase risk of complications following surgery. They can inhibit bone and wound healing by decreasing blood flow to the surgical site. They can also increase the risk of deep vein thrombosis (DVT) a.k.a. blood clots. Please discuss smoking cessation with your doctor.
You, your family member or support person will be instructed to go to the Patient Access Services in the first floor lobby.
After Surgery
In the Post-Anesthesia Care Unit (PACU), also called the Recovery Room, you will be given oxygen, and your vital signs (breaths, heart rate and blood pressure) will be monitored. The team will also focus on managing your pain so you will be comfortable when you begin rehabilitation. Once in the PACU, the person that accompanied you will be provided an update.
To maintain patient privacy, as well as to reduce the risk of infection, PACU visits are limited. These visits will be facilitated through the Family Atrium patient liaisons. One visitor at a time will be allowed during visits. Cell phone use and picture taking is not permitted in the PACU.
When the anesthesiologist determines that you are sufficiently recovered, your vital signs are stable and pain is well managed after surgery, you will be transported to an inpatient unit. While most patients are transferred to inpatient units, some remain overnight in the PACU for additional monitoring and observation.
Recovering from Total Hip Replacement Surgery at the Hospital
A dressing will be applied to your hip. You may also have a thin tube inserted at the surgical site attached to a drain to prevent accumulation of blood around the muscles and bones of the joint. The tube and drain will likely be removed the day after surgery, and the bandage is removed the first or second postsurgical day.
Members of the nursing staff will position you in bed and help you turn until you are able to move on your own. You may have a pillow between your legs if ordered by your surgeon. Because anesthesia may temporarily inhibit urination after surgery, a Foley catheter may be inserted into the bladder to remove urine. This catheter is usually removed within 24 hours.
In collaboration with you and your support system, the Hospital staff, including a physician, physician assistant, nurse, nurse practitioner, physical therapist and social worker will plan, provide and monitor your care.
Exercise
Gentle exercises to improve your range of motion can help prevent circulation problems as well as strengthen your muscles. Very soon after surgery, a physical therapist will teach and review your exercise program.
Deep Breathing
It is extremely important to perform deep breathing exercises after surgery to rid your airway and lung passages of mucus. Normally, you take deep breaths almost every hour, usually without being aware of it, whenever you sigh or yawn. When you are in pain or are drowsy from anesthesia or pain medication, your breathing may be shallow. To ensure that you breathe deep daily, the nursing staff will provide you with a device called an incentive spirometer, along with instructions on its use.
Hip Replacement Rehabilitation in the Hospital
Your rehabilitation program will begin once you are medically stable and there are orders from your doctor to begin postoperative mobility. Everyone will begin rehabilitation within 24 hours of surgery.
It is critical to understand that motivation and participation in your physical therapy program is a vital element in the success of your surgery and your overall recovery. It is imperative that you play an active role in your recovery and rehabilitation from the start!
The physical therapist will assist you in the following activities:
Sitting at bedside with your legs dangling
Transferring in and out of bed safely
Walking with the aid of a walker or cane
Climbing stairs
Beginning to Walk
Your therapist will assist you in sitting up with your feet over the bedside with feet resting on the floor. You will then stand with the use of a walker and the continued help of your therapist.
As the days progress, you will increase the distance and frequency of walking. Most patients progress to a straight cane, walker or crutches within a couple of days after surgery.
Final Steps: Guidelines for Recovering at Home
Please do not hesitate to contact your surgeon with any questions you have about the following instructions. Consult with your internist about duration and dosage of iron.
Caring for the Surgical Site
Depending on how your incision is closed, your nurse will review care instructions with you.
Many skin incisions are closed with Dermabond or a glue like product. If so, you will able to shower.
Some incisions are closed with stitches or staples, usually removed in 7 to 10 days. The staff will provide specific instructions about showering and care of the incision.
Please inform your surgeon if you notice increasing redness or drainage from your incision.
Pain Medication
Take your pain medication as prescribed, but expect to use less after the first week or so.
Take your pain medication before the pain becomes severe. Use cold therapy and other measures to help reduce discomfort.
If your pain medication seems weak or you are experiencing unpleasant side effects, do not hesitate to call your surgeon's office.
If you are taking pain medication, avoid alcoholic beverages.
It is important to notify your team if you require additional pain medications. The surgeon and nurse practitioners will customize your plan to meet your needs. Call the surgeon's office before your supply runs too low, 1-3 days before you are likely to run out. No medications will be refilled on weekends.
The Total Joint Replacement Guidebook
This guidebook, Your Pathway to Recovery: A Patient's Guide to Total Joint Replacement Surgery (Hip and Knee), is a comprehensive, essential overview of everything having to do with total hip replacement surgery at HSS, from an overview of the procedure and hospital maps to nutrition tips and illustrated physical therapy exercises. Read the guide in the viewer below or download the PDF.
Updated: 10/23/2017