So You Jammed Your Finger: Now What?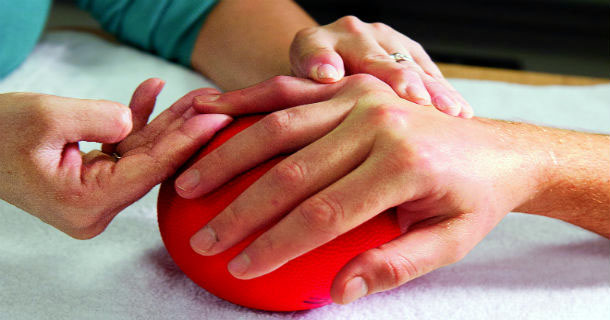 How many times have you hurt your finger during a volleyball or basketball game, family wrestling match, or even tucking in your sheets while making the bed? Sometimes it goes away after a few days or a week. Other times you may need medical attention. If your finger can't move like normal – if you can't bend or straighten it with normal effort, or if you feel sharp shooting pain – you may have an injury that you can't fix yourself.
The three cylindrical bones of the finger (the phalanges) are in line with each other and require ligaments to help them remain aligned while the tendons flex and extend the fingers. Ligaments attach bone to other bone.
What happens when you jam your finger?
When a finger is jammed, the stress along the joints can cause any of these structures to fail: ligaments can tear, tendons can rupture and bones can fracture.
Sprained fingers and torn ligaments
If the sides of your finger are red and swollen, it could be a ligament sprain of one of the collateral (side) ligaments. If it's tender on the bottom, you may have bent your finger backwards (another ligament injury). A sprain can be mild (overstretched) to severe (a large portion is torn or completely detached). Sharp pain could signal a break.
Mallet finger
In one common injury the tip of the finger can't straighten out. It droops into a flexed position, and can't straighten without help. This is called a "mallet finger" and always needs intervention from a skilled medical professional. Contact a hand surgeon (an orthopedic specialist in conditions of the upper extremity) for proper management.
It's also good to make a mental note of the injury: date of injury, what you were doing, how it happened, what force and what angle was the force directed, and what position your finger was in during the accident. This information can help guide your treatment and recovery and avoid a similar injury in the future. Ice your finger immediately after the injury to decrease swelling and reduce pain.
If you're having continued pain and difficulty with motion, a visit to a hand doctor is a good idea to prevent long-lasting deficits and get you back to full mobility.
Authors
Related articles