Introduction
RSA is a powerful research technique that is currently being studied at HSS for joint replacement patients. RSA stands for radiostereometric analysis, which describes a special way of taking two X-rays from different directions at the same time, creating a "stereo" image. RSA X-rays allow surgeons to measure precisely how the body and the implant are interacting. This enables them to accomplish two goals at once – while measuring the patient's progress, they can also use information from this research to improve implant design and technology for future patients.
Edwin P. Su, MD, explains, "The power of RSA comes from its ability to precisely measure small amounts of movement, thus allowing us to gather a lot of information from a small group of patients"
The RSA Process
To precisely measure implant position on RSA images, the surgeon inserts beads into the bone surrounding the implant. These beads are very small - about the size of a poppy seed (see Figure 1) - and made of tantalum, a metal that is used in prosthetic implants and is well tolerated by the body. These beads become stably integrated into the bone and can be used as references with which to detect any change in position of the implant components.

Figure 1
This image shows the relative size of the implanted tantalum beads to a US quarter.
The first set of stereo X-rays are taken post-operatively while the patient is still in the hospital, with additional images taken on subsequent office visits. HSS surgeons rely on colleagues in Sweden to analyze the images and to calculate any movement or shifting of the implant that might have occurred. Previous studies have shown RSA to be accurate to 2/10ths of a millimeter of motion (see Figure 2).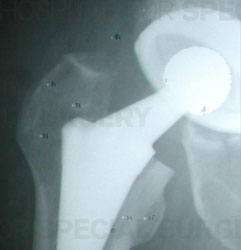 Figure 2
An RSA image of tantalum beads inserted into a joint implant and labeled for detection of movement.
The Benefits of RSA to Patients
The information gathered from RSA tells the surgeon precisely how much position change has occurred since implantation of the prosthesis. This may also help the surgeon predict how long the implant will last. It can give the patient valuable information about his or her particular prosthesis. RSA will also benefit future patients by providing important data to help researchers in improving joint replacement surgery.
Timothy Wright, PhD, Senior Scientist at HSS, notes that "because of its accuracy and precision, RSA has been shown to be perhaps the most reliable tool for providing an early warning that an implant is failing."
"With this level of accuracy," adds Mathias Bostrom, MD, "we can assess new implant technology, more accurately predicting which implants will offer good long term performance. It's a great benefit for the good of patient care."
The Use of RSA at HSS
RSA is used in clinical studies to reveal critical information about joint implants. Current research projects involving the use of RSA and joint replacement include:
RSA and ceramic hip replacement – A ceramic total hip arthroplasty (THA) is often utilized in young, active patients. However, ceramic THA has only recently become approved by the FDA for use in the United States, and not much information exists about how the body and the prosthesis interact. When a surgeon chooses a ceramic hip replacement for treating the patient, RSA is a useful tool to follow the progress of the implant.
RSA and tantalum hip replacement – As mentioned previously, tantalum may have benefits to joint replacement surgery. Most current sockets are made with titanium; however, tantalum has the promise of improving fixation of the implant to the surrounding bone, providing greater stability. RSA can be used to measure the stability of a tantalum implant as compared to the standard titanium.
RSA and tantalum knee replacement – In most knee replacements, the component placed into the tibia (or shin) bone is fixed with cement. Though this technique has had excellent results over time, the potential for loosening exists. A new knee replacement is available that uses porous tantalum to encourage bone to grow directly into it, providing a permanent biological fixation. The tantalum is very compatible with bone and has the possibility of lasting longer than a standard knee replacement that is cemented in place. RSA provides a rapid, reliable method for studying whether tantalum leads to improved fixation and longevity of the implant.
Minimal Risks Associated with RSA
The risks involved with RSA imaging are minimal. RSA has been used for over 30 years in Europe and for 5 years at HSS. The only potential risks come from implantation of the marker beads.
The insertion of beads takes an additional 5 to 10 minutes of surgery. Although this increases surgical time, no increased incidence of infection, bleeding, or blood clotting has been reported in any RSA study.
Though the beads get stably integrated into the bone, the beads could move or become loose, eventually imbedding in adjacent tissue. This risk is considered very small; over 300,000 beads have been implanted worldwide with no adverse effects related to bead movement or loosening.
Also, RSA requires additional radiation from the special X-rays, even though the X-rays are taken in such a way to minimize radiation exposure. The amount of radiation from a set of RSA X-rays is comparable to flying a transatlantic flight.
Conclusion
The success of RSA has been proven in Europe over many years. Now RSA has become a promising diagnostic tool in this country, and patients undergoing total joint replacements are likely to benefit greatly from this technology for years to come.
"RSA is an emerging technology offering the most accurate assessment of total joint replacement fixation and long term stability," Dr. Bostrom explains. "It is rapidly becoming the gold standard for assessing radiographic outcome."
The Hospital's contributions in advancing implant technology, refining surgical techniques, and improving patient care are made possible by studying select groups of patients to learn what may benefit others. The information gathered from these clinical tests is valuable to both current and future patients requiring total joint replacements. Patients of the four RSA-approved physicians at HSS - including Dr. Edwin P. Su, Dr. Mathias P. Bostrom, Dr. Thomas P. Sculco, and Dr. Bryan J. Nestor - are eligible to participate in the study if they are appropriate candidates.
Updated: 10/12/2009
Authors

Mathias P. Bostrom, MD
Chief of Adult Reconstruction and Joint Replacement Service, Hospital for Special Surgery
Attending Orthopedic Surgeon, Hospital for Special Surgery

Edwin P. Su, MD
Attending Orthopedic Surgeon, Hospital for Special Surgery
Professor of Orthopedic Surgery, Weill Cornell Medical College

Tim Wright, PhD
Senior Scientist, Hospital for Special Surgery
F.M. Kirby Chair, Orthopaedic Biomechanics
Other resources