Most patients successfully recover from joint replacement surgery with no complications. But occasionally, "wear debris" from the breakdown of materials in the hip or knee implant can accumulate in the surrounding tissues. This causes local inflammation that destroys the bone and loosens the prosthesis, a condition called osteolysis.
"Osteolysis is the most common, long-term complication of joint replacement surgery," says Ed Purdue, PhD, director of the HSS Osteolysis Laboratory.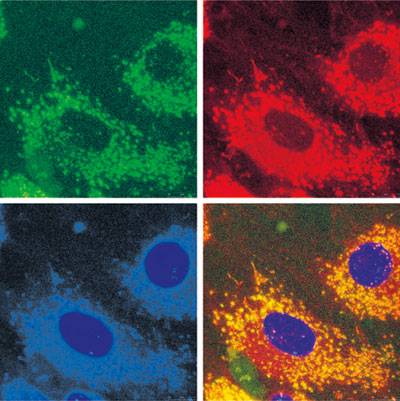 Nanoparticles indicate inflammation in cells, the first sign that osteolysis will develop.
HSS scientists are working to better understand osteolysis with the goals of prevention, early detection, and cure. Doctors have never had a tool to identify early roots of the problem. Now, HSS scientists and their collaborators have found in the laboratory that a small designer molecule called a "nanoparticle" can be used to visualize inflammation around implants, the first sign of osteolysis. The molecule can also be used to deliver drugs to treat the inflammation and prevent osteolysis.
Several years ago, Dong Wang, PhD, worked to modify a nanoparticle system previously used to deliver chemotherapy agents to cancer cells so that it targets sites of inflammation. HSS investigators, including Dr. Purdue and Chief Scientific Officer Steven Goldring, MD, worked with Dr. Wang and colleagues at the University of Nebraska Medical Center to learn how to use this tool to home in on the inflammation involved in prosthesis loosening.
First, they used orthopedic wear debris particles to generate an inflammatory reaction comparable to osteolysis. They then inserted the nanoparticle tagged with a fluorescent marker and saw it gravitate to the inflammatory cells. They also had the molecule deliver medication directly to the site of inflammation. While physicians will ultimately use a different medication to treat osteolysis, Dr. Purdue says that the study, published in Molecular Pharmaceutics, shows that this treatment is possible.
Learn more in HSS's biannual research publication, Discovery to Recovery.
Posted: 3/7/2012
Related articles