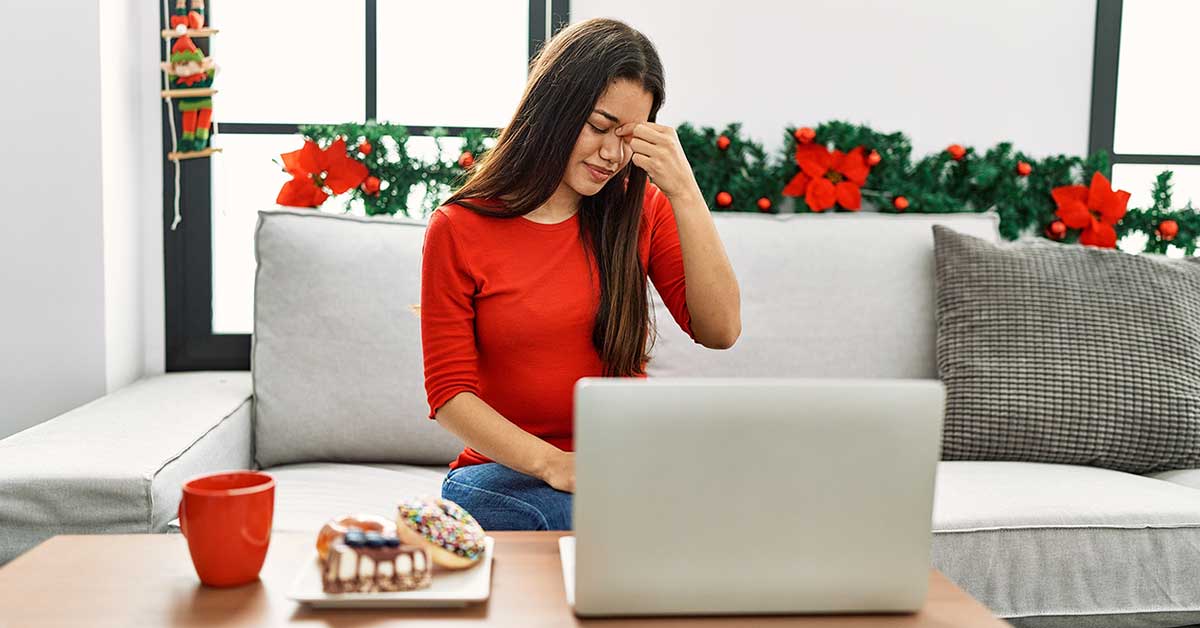 What is stress?
There is no one definition for stress. When seeking to understand its meaning, people may think of stress as a feeling of being overwhelmed, worried or rundown. Stress is also described as an uncomfortable emotional experience accompanied by predictable biological, physical and behavioral changes. Stress can affect everyone, regardless of age, gender, socioeconomic or other circumstances. The ways in which individuals respond to stress, however, can differ greatly. Living with a chronic and often unpredictable illness like lupus is stressful in itself. During the holidays, demands and expectations associated with the season may increase this stress.
In her presentation, social work intern and SLE Workshop coordinator Asia Taylor, discussed managing holiday stress with lupus, including concepts such as:
how we define stress
where we feel stress
how to detect stress within our bodies
The group's feedback allowed participants to define stress in their own unique way and helped them to identify what triggers their stress.
Group members shared that stress can stem from feelings of being overwhelmed. The following was shared in response to describing what causes someone to experience feelings of being overwhelmed during the holiday season. These included:
shopping
feeling pressured to spend money
cooking
cleaning
decorating
hosting company
challenges maintaining personal and healthy diet
Preparing for the holidays can be exciting. However, it can also add additional pressure, both physical and emotional, that make these times difficult to enjoy. Studies have indicated that lupus-related symptoms may be worsened by stress, particularly around the time of major holidays, and that rest and relaxation can help reduce lupus symptoms.
Improving communication over the holidays
The topic of holiday stress and its effects were further discussed by workshop participants who broke out into pairs. Participants were asked to engage in a 10-minute exercise in which they shared the following with their partner:
Their top 2 stressors associated with having lupus and managing the holiday season.
Methods they choose to cope with those stressors.
Regarding ways to cope, many touched upon the importance of listening to their bodies. They also shared prioritizing personal needs and setting boundaries with family and friends to avoid over exhaustion and negative physical effects of stress.
The exercise transitioned into an insightful conversation about how to set better personal boundaries. Ms. Taylor introduced several useful phrases that can helped people enhance communication with their loved ones regarding the stress they experience due to illness and the holidays. These included:
"What works for me is to…,"
"At this time, I am able/not able to…,"
"This year I'll be doing a potluck dinner, I'd love some contributions…"
"Hope you understand that my lupus…"
"My sense is that I'm going to need more time than I originally said I would…"
"My intuition is telling me….."
What does planning ahead look like for you?
Planning ahead is an often-used phrase. But for some, this concept may be hard to put into practice. Ms. Taylor shared practical tips to plan ahead and to decrease stress over the holidays, Tips included:
Make lists and keep them somewhere visible.
Create and set reminders on devices you use most.
Create visual reminders: Use notepads, sticky notes, personal journal books etc.) .
Set labeled alarms on devices and electronic calendars.
Recruit a partner for support.
Traveling over the holiday season with lupus
You may wish to consider traveling rather than hosting. Being prepared for holiday travel can be very important, especially if you have lupus-related needs. These tips were shared:
Bring the medications you will need.
Contact your hotel prior to booking to ensure that the room and environment is accessible for your needs.
Pack a gel, hot/cold pack if needed.
Contact airlines for assistance with wheelchairs and motorized scooters if mobility is an issue.
Ask your doctors if they have colleagues in the area to which you traveling and/or research how to access appropriate medical care nearby.
Create and save your emergency contact's name in your phone by labeling it "ICE" (which stands for "in case of emergency"). With the contact information labeled "in case of emergency." This can allow a first responder to check your phone and contact that particular person.
Relaxation techniques for managing holiday stress
Relaxation techniques can be useful for reducing stress and enhance one's overall health and well-being. Ms. Taylor offered the following suggestions:
Meditation: These method calls upon focusing the mind on a particular thought, object or activity (such as one's breathing) in order to gain a mentally clear, calm and stable state. Visualization is an exercise that allows one to focus on visual images and other sensory experiences to clear the mind and reduce stress within the mind and body. Participants were also encouraged to listen to music and to make time for simple things such as laughter, as laughter can often work to keep stress at bay.
Relaxation sigh
Ms. Taylor concluded the presentation with a breathing exercise called the "relaxation sigh." Attendees were asked to do the following:
Sit with hands flat on lap, feet flat on the floor, with backs straight (participants had the option of keeping their eyes open or closed).
Close mouth and inhale quietly through the noses to a mental count of four seconds.
Hold the breath for five seconds.
Sigh deeply, letting out a sound of deep relief as air rushes out of lungs.
Additional resources
About the HSS SLE Workshop
Originally presented March 28, 2019, at the HSS SLE Workshop, a free support and education group held monthly for people with lupus and their families and friends.
Posted: 12/21/2021
Authors