From Grand Rounds from HSS: Management of Complex Cases | Volume 8, Issue 1
Case Report
A 66-year-old woman who had undergone right total knee arthroplasty (TKA) in 2006 at an outside institution recently underwent revision spine surgery at HSS. She subsequently developed a methicillin-sensitive Staphylococcus aureus (MSSA) infection that led to bacteremia and infection of the right TKA. She was seen for evaluation at the Stavros Niarchos Foundation Complex Joint Reconstruction Center for the acute periprosthetic joint infection (PJI) and underwent irrigation and debridement of her right TKA, which was treated with polyethylene insert exchange and 6 courses of IV antibiotics. She then was transitioned to oral suppression. Six months after the irrigation and debridement she noted increasing swelling and pain in her right knee without any trauma. Laboratory work-up was significant for a white blood cell (WBC) count of 10.3/nL, erythrocyte sedimentation rate of 35 mm/hr, and C-reactive protein level of 83.9 mg/dL. The WBC count of preoperative joint aspirate was 53,750 cells/mm3, and synovial fluid cultures grew MSSA, confirming a diagnosis of recurrent PJI.
At HSS, the patient underwent 2-stage revision TKA with an antibiotic spacer (Fig. 1). The first stage consisted of a thorough debridement of infected tissue with components and cement removal. An articulating antibiotic spacer with high doses of antibiotic cement was inserted. The spacer was fashioned intraoperatively using silicone molds (Stage One™, Zimmer Biomet, Warsaw, IN). Four bags of Simplex® P cement (Stryker, Mahwah, NJ), with vancomycin 2 g and tobramycin 1.2 g added to each 40-g bag of cement, were inserted into the femoral and tibial molds and allowed to harden. Once the cement spacers had fully hardened, one additional package of antibiotic-loaded cement was used to cement the components in place. The skin was closed primarily. The patient also received IV antibiotics for 6 weeks according to the infectious disease specialist; 3 weeks after completion of antibiotic therapy, a knee aspiration of synovial fluid revealed no bacterial growth and no indication of infection.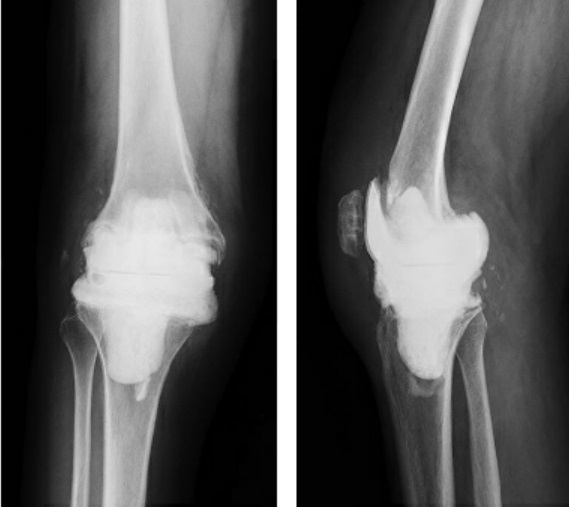 Figure 1: Anteroposterior (A) and lateral (B) radiographs of the right knee after explantation and insertion of an articulating antibiotic cement spacer.
At 3 months after explantation, the patient underwent reimplantation TKA using a stemmed, constrained condylar knee implant. Femoral and tibial metaphyseal cones were needed to reconstruct metaphyseal defects (Figs. 2 and 3). Tobramycin-and-gentamicin-impregnated cement was used for this procedure. The incision was closed primarily with the use of an incisional vacuum dressing.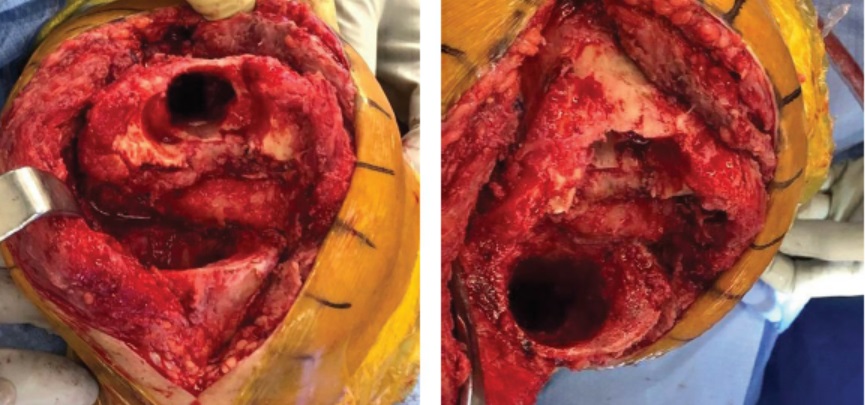 Figure 2: Intraoperative photos showing femoral (A) and tibial (B) metaphyseal bone defects.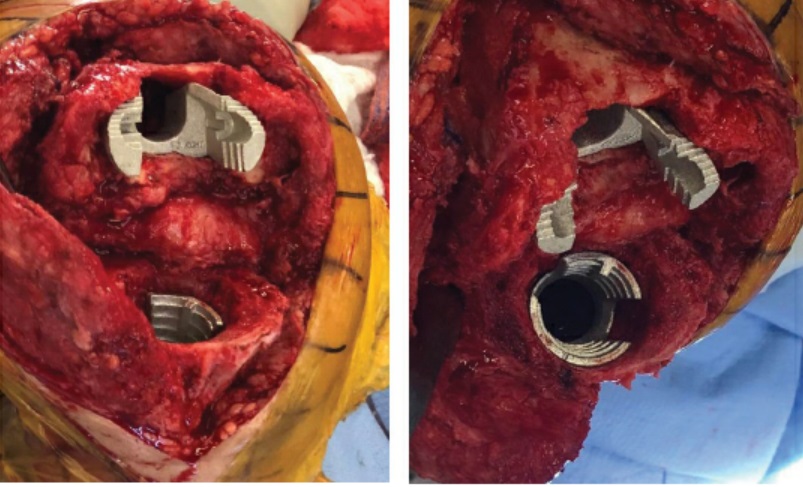 Figure 3: Intraoperative photos showing femoral (A) and tibial (B) metaphyseal titanium cones used to reconstruct the bone defects.
At her most recent follow-up visit (4 months after reimplantation), the patient walked without any assisting device and had a healed incision with no effusion, range of motion of 0° to 130°, no extensor lag, and no instability or signs of infection on examination (Fig. 4).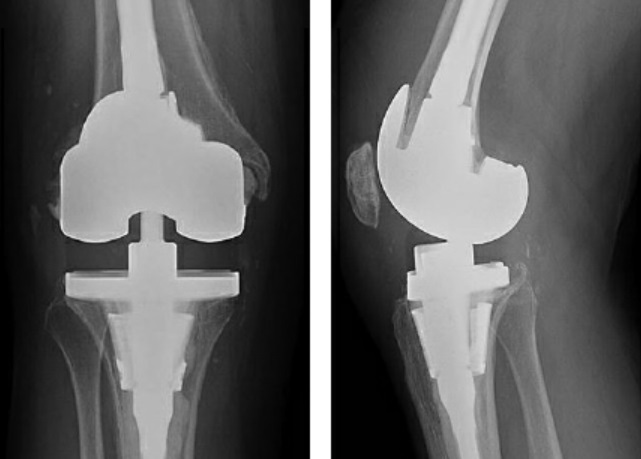 Figure 4: At 4-month follow-up, anteroposterior (A) and lateral (B) radiographs of the right knee showing condylar-constrained knee implant with stems and femoral and tibial metaphyseal cones.
Discussion
The management of metaphyseal bone defects during revision TKA is crucial to achieving durable implant fixation. Defects classified as Anderson Orthopaedic Research Institute (AORI) types 2B and 3 were historically addressed with a combination of epiphyseal and diaphyseal fixation (metallic augments and cemented or uncemented stems); other reconstruction techniques included impaction grafting, structural allograft, custom implants, and segmental mega-prosthesis [2]. Over the past decade biologic metaphyseal fixation has gained in popularity with the use of porous-coated titanium sleeves (DePuy Synthes, Warsaw, IN) and highly porous tantalum or titanium cones, which represent alternatives for reconstructing large metaphyseal bone defects [1, 4]. Osseointegration of the metaphyseal implant results in reduced stress at the implant–bone interface [3]. These implants provide excellent structural support for a wide range of bone defects [1, 4].
In recent years, studies have shown promising early and mid-term survivorship of metaphyseal sleeves and cones in revision TKA, even in cases of infection. A systematic review by Divano et al. found that metal cones used in revision TKA showed good clinical and functional outcomes, with an implant and cone survival rate of 95% and an infection rate of 7.1% with a mean follow-up of 3.65 years [1]. A systematic review by Zanirato et al. found a metaphyseal sleeve survival rate of 97% with a mean follow-up of 4 years [4].
Our patient had metaphyseal bone loss requiring the use of a stemmed condylar-constrained knee implant with femoral and tibial titanium cones for fixation that allowed for immediate weight bearing and a reconstruction that should be durable for decades.
Posted: 3/1/2019
Authors
Ivan De Martino, MD
Orthopaedic Surgery Clinical Fellow
Hospital for Special Surgery
Michael-Alexander Malahias, MD, PhD
Research Fellow
Stavros Niarchos Foundation
Complex Joint Reconstruction Center
Hospital for Special Surgery

Peter K. Sculco, MD
Associate Attending Orthopedic Surgeon, Hospital for Special Surgery
Associate Professor of Orthopaedic Surgery, Weill Cornell Medical College
Associate Attending Orthopedic Surgeon, NewYork-Presbyterian Hospital
References:
Divano S, Cavagnaro L, Zanirato A, et al. Porous metal cones: gold standard for massive bone loss in complex revision knee arthroplasty? A systematic review of current literature. Arch Orthop Trauma Surg. 2018;138(6):851–863.
Haidukewych GJ, Hanssen A, Jones RD. Metaphyseal fixation in revision total knee arthroplasty: indications and techniques. J Am Acad Orthop Surg. 2011;19(6):311–318.
Huang R, Barrazueta G, Ong A, et al. Revision total knee arthroplasty using metaphyseal sleeves at short-term follow-up. Orthopedics. 2014;37(9):e804–e809.
Zanirato A, Cavagnaro L, Basso M, et al. Metaphyseal sleeves in total knee arthroplasty revision: complications, clinical and radiological results. A systematic review of the literature. Arch Orthop Trauma Surg. 2018;138(7):993–1001.