Knee Revision
A knee revision (also called "revision total knee replacement") is a reoperation of a total knee replacement (TKR). This reoperation may involve a partial or a complete exchange of the prostheses that were implanted during the original TKR surgery. Some patients may only need to have their existing implants and underlying bone surfaces cleaned out and refixated, rather than replaced.
Who needs knee revision surgery?
In about 85% to 90% of people who get a TKR, the artificial implants last for 15 to 20 years. This means that for elderly people, they may last for life. But in younger patients, especially those who maintain an active lifestyle, TKR prostheses may eventually fail, requiring another replacement later in life.
The most common reasons for knee revision are:
Loosening of one or more prostheses due to friction over time
Wear and tear, including loosening or breakage of prosthesis components
Infection. The risk of infection from a TKR is less than 1%, but when infections do occur, a knee revision of one kind or another is necessary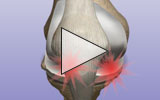 Video: A step-by-step animation of a knee revision procedure
Back in the Game Patient Stories