Blount's Disease: An Overview
Introduction
Blount's disease (also known as tibia vara) is a deformity at or just below the knee joint caused by an abnormality of the growth plate at the top of the tibia (lower leg/shin bone). Often manifesting itself in obese children and early walkers, Blount's disease presents by two years of age and is hallmarked by severe bowlegs.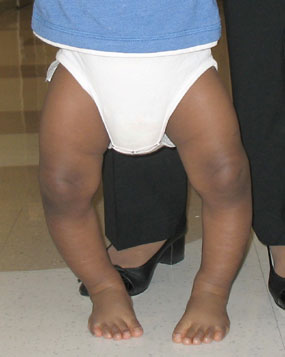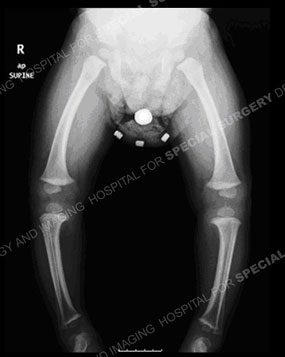 Figures 1 & 2: Photo and X-ray of a child with Blount's disease and bowlegs.
Along with a thorough history and physical examination, an X-ray of the lower extremities helps to establish the diagnosis of Blount's disease.
Treatment for Blount's Disease
Wearing braces may help children younger than three years, but surgery may be necessary in cases of failed brace treatment, delayed diagnosis, or marked deformity at initial evaluation.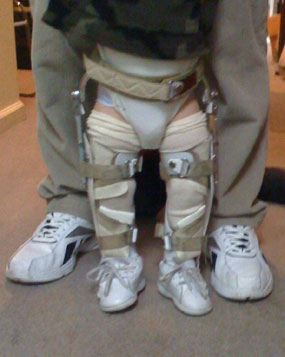 Figures 3 & 4: Photos of a child with Blount's disease in a brace.
After three years of age, surgery will be recommended if the deformity is still present and the angle of bowing is greater than 13 degrees as measured on a standing (weight bearing) X-ray of the child's lower extremities.
Surgical procedures fall into two main categories:
Guided growth
Tibial osteotomy.
The guided growth procedure is intended to correct further growth at the growth plate. Small metal plates are secured to the bone across the healthy side of the growth plate to halt the growth on that side of the tibia, which enables the effected, abnormal side of the growth plate to catch up, and therefore correct the deformity with subsequent growth to straighten the leg.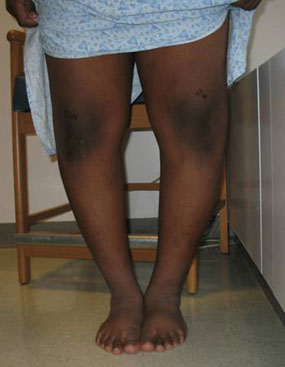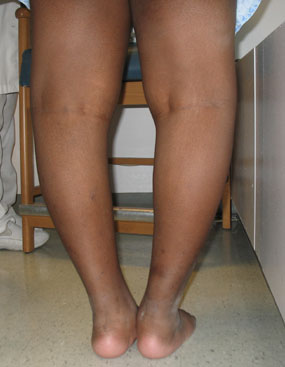 Figures 5 & 6: Photos from the front and back of a child with bowlegs
due to Blount's disease, prior to guided growth treatment.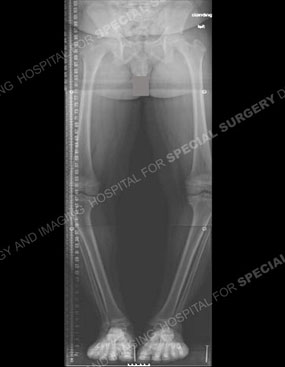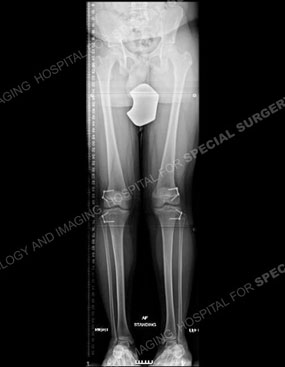 Figures 7 & 8: X-rays of the same child before (left) and after (right) a guided growth surgical procedure.
Note the plates used to fully correct the lower extremities in the knee area, outlined in white.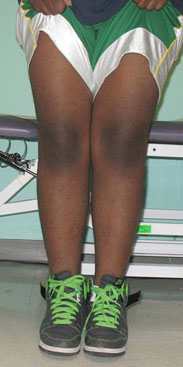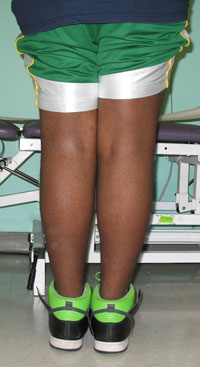 Figures 9 & 10: Photos of the child after surgery.
The other routine procedure is required when growth is complete or nearly complete, and is called a tibial osteotomy. This procedure involves cutting across the tibia bone just below the knee joint to correct the alignment and placing a plate or external device on the leg until the bone has healed into a straightened position.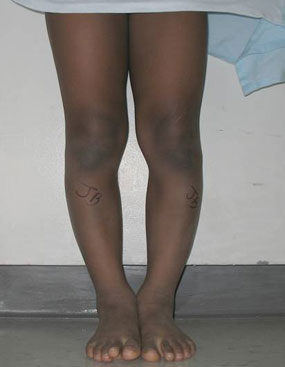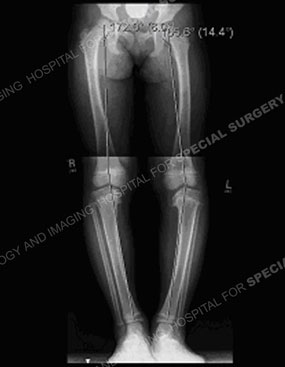 Figures 11 & 12: Photo and X-ray of a child with Blount's disease prior to a tibial osteotomy surgical procedure.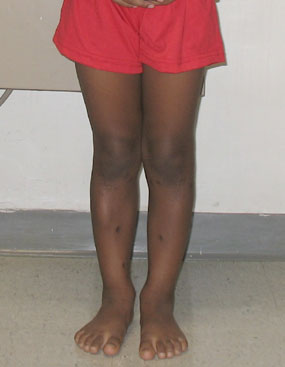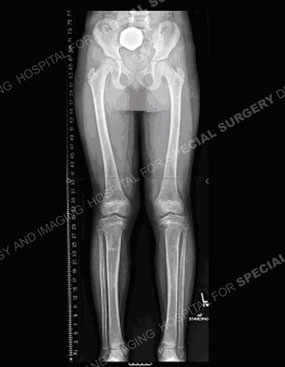 Figures 13 & 14: Photo and X-ray of the same child after a tibial osteotomy surgical procedure.
Learn more about Pediatric Limb Deformity Reconstruction at HSS.
Posted: 7/28/2011
Images by the HSS Department of Radiology and Imaging
Authors