Research is key to the HSS mission.
Our scientists and physicians work together to discover new technologies, treatments, and surgical techniques to improve patients' quality of life now and in the future.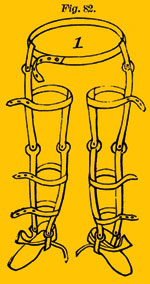 1984: In Dr. James Knight's Orthopaedia, his practical treatise on the aberrations of the human form, he illustrates a brace used to treat genu valgum, commonly known as "knock-knees."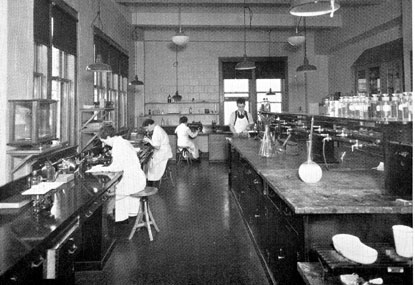 1934: HSS adds a new floor for laboratories. Under the leadership of R. Garfield Snyder, MD, director of the Arthritis Clinic (pictured to the left), HSS conducts one of the earliest scientific studies in New York City of the causes behind chronic arthritis.
1960: The Caspary Research Building opens – the first free-standing orthopedic research facility in the country. It was built under the leadership of Surgeon-in-Chief Emeritus Philip D. Wilson, Sr., MD, who assumed a new position as HSS's first director of research in 1955.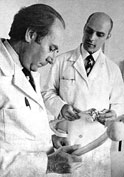 1974: Surgeons and engineers (including, Dr. John N. Insall and Dr. Chitranjan Ranawat pictured to the left) collaborate to design the original total condylar knee – an outstanding achievement of implant design that becomes the prototype of modern knee replacement.
Three years later, HSS becomes the first hospital to make custom designed orthopedic implants.
1995: In the 1990s HSS scientists develop new ways of treating autoimmune diseases with biological agents in combination with the latest innovations of tissue engineering and gene therapy.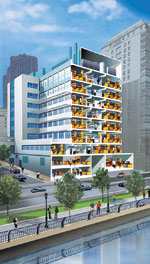 2002: HSS launches the Campaign for Research: Discovery to Recovery, a $115 million fundraising drive to recruit and retain world-class research faculty and modernize the Caspary Research Building.
2013: HSS scientists continue to make breakthrough discoveries about the causes of autoimmune diseases, providing exciting opportunities for new drug therapies. For example, studies have identified a treatment approach that can block a protein called tumor necrosis factor (3-D model shown) linked to rheumatoid arthritis.
Read the full Discovery to Recovery Spring 2013 issue.
Posted: 5/28/2013
Authors
Other resources