HSS knee research will result in many future advances, thanks to the newly created John N. Insall Chair in Knee Surgery. This Chair is funded through the extraordinary generosity of the John N. Insall Foundation for Orthopedics, which has pledged $2,000,000 for research in knee surgery and biomechanics.
This new endowment recognizes the remarkable legacy of Dr. Insall, who pioneered modern-day knee replacement implants and techniques at HSS in the 1960s and 1970s. The Chair will provide ongoing support to the HSS Knee Service for its work in knee implant design and biomaterials development and the creation of new improved surgical techniques, so that future knee replacement patients will recover faster, function at higher levels, and enjoy longer lasting implants.
Knee replacement surgery has long been at the core of HSS's mission, and the Hospital has been considered the research leader and innovator of this surgery for decades. HSS surgeons now perform nearly 4,000 knee replacements each year. Special Surgery's high patient volume, research infrastructure, and culture of collaboration allow surgeons and engineers to work together to continuously improve treatment options for patients requiring this surgery, still the only existing cure for end-stage knee arthritis.
Dr. Insall's Legacy
John N. Insall, MD, was a fellow at HSS in 1961, and was appointed chief of the HSS Knee Service in 1969, a founding member of The Knee Society in 1983, and president in 1987. Dr. Insall, who died in December 2000, was not only one of the Hospital's most eminent investigators, but also a gifted teacher, training more than 200 orthopedic residents and 100 national and international fellows in his career.
Dr. Insall, considered the father of the modern-day knee replacement, is best known for his groundbreaking knee implant designs. In the early 1970s, Dr. Insall, along with Chitranjan Ranawat, MD, and Peter Walker, PhD, developed the first total knee replacement prosthesis created at HSS, a revolutionary design that replaced the existing hinge-type implants with one that was more anatomically correct. In 1978, Dr. Insall and Albert Burstein, PhD, then the director of the Hospital's Department of Biomechanics, once again revolutionized the world of implant science, creating a knee system that provided a stable joint with improved range of motion, the Insall Burstein Posterior Stabilized Knee, which became one of the most successful knee implants in the world.
Knee Service Chief Steven Haas, MD, Holds Insall Chair
Dr. Steven Haas, current chief of the Knee Service at HSS, who trained under Dr. Insall as a young surgeon, has been named to hold the John N. Insall Chair. Dr. Haas and his Knee Service colleagues will apply the resources provided by the Chair to research knee surgery and biomechanics. "Dr. Insall's contributions to the field are legendary. On a personal level, training under Dr. Insall greatly contributed to my development as a surgeon and investigator," says Dr. Haas.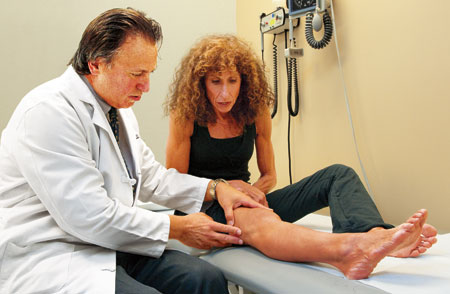 Dr. Steven Haas examines Jane Byron's right knee following a total kee replacement.
"It is an honor to assume a Chair in his name and to have the support to continue our research," says Dr. Haas.
Dr. Haas is an internationally renowned surgeon, leader in knee implant innovation, and lecturer. He has developed groundbreaking surgical techniques and instrumentation for performing minimally invasive knee replacement and conducted extensive research in the field. Recent research topics have included improving knee replacement outcomes in younger, active patients; extending the longevity in knee replacement by minimizing polyethylene wear; and reducing post-operative complications.
"Dr. Haas is an exceptional surgeon and clinical investigator," says Thomas Sculco, MD, Surgeon-in-Chief Emeritus at Hospital for Special Surgery. "Given the depth and breadth of expertise and the commitment of Dr. Haas and his colleagues, the Knee Service will benefit enormously from the resources provided by the John N. Insall Research Chair and continue to honor his legacy."
Learn more in HSS's biannual publication, Discovery to Recovery.
Posted: 3/13/2012
Authors