Areas of Investigation
The goal of Dr. Maher's laboratory is to understand the relationship between knee joint contact mechanics and the biological response of articular cartilage and meniscus. This information is used to direct the development of implants, scaffolds, or modified surgical techniques to intervene in the degenerative process that occurs after injury. Her laboratory is currently developing biomaterials for joint restoration that can be used to treat young active patients with chondral or meniscal defects early in the course of the problem, thus delaying the need for a total joint replacement.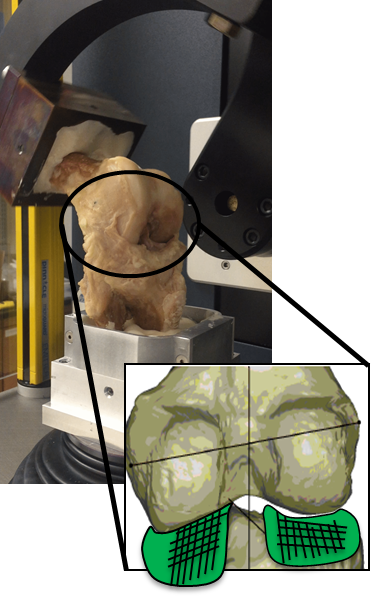 Joint-level loading systems: to apply physiological loads to mimic every-day activities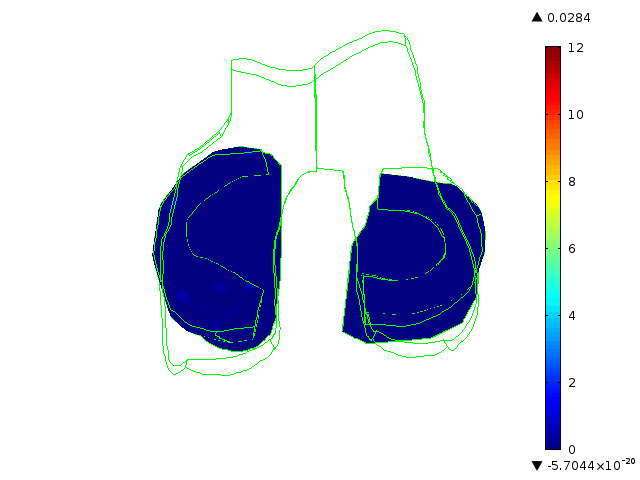 Statistically augmented computational models in which the effect of knee-specific variables can be parametrically analyzed
The Maher team has built multi-scale, multi-system models to help them understand how knee-specific factors affect joint contact mechanics and how injury affects the mechanics of the knee joint. They are using the models to assess the ability of scaffolds/ implants to restore pre-injury mechanics to the knee joint and to assess the ability of implants to integrate with the host tissue. One such implant for the treatment of cartilage defects is currently at an advanced level of pre-clinical testing, supported in part by the BioAccelerate NYC Program.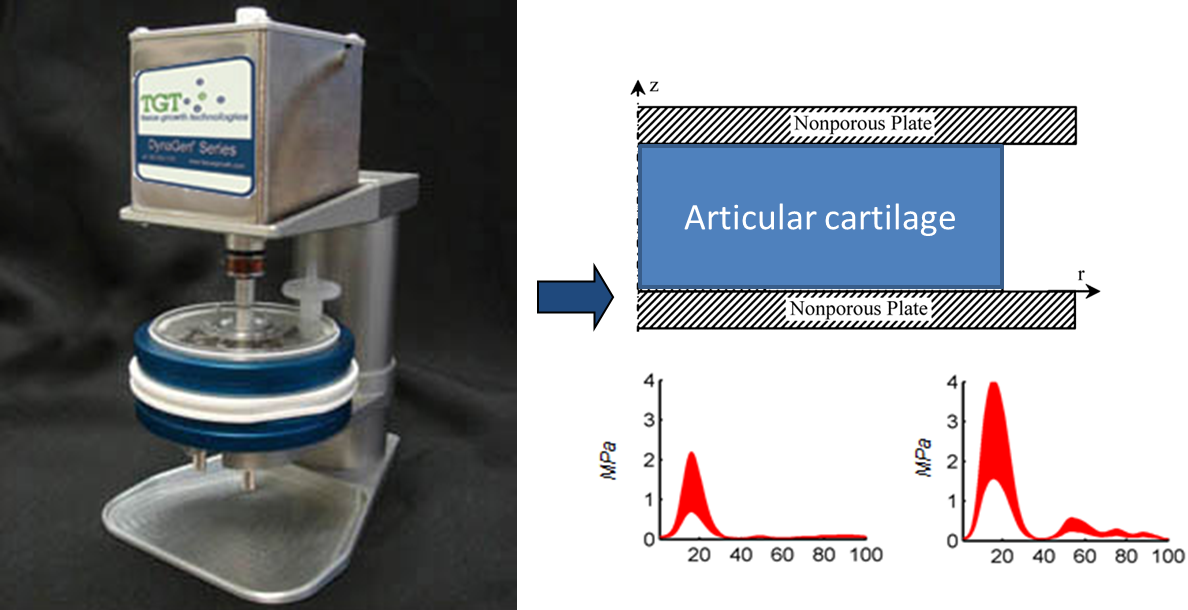 Bioreactors in which specific loading profiles can be applied to tissue explants, or scaffold-tissue constructs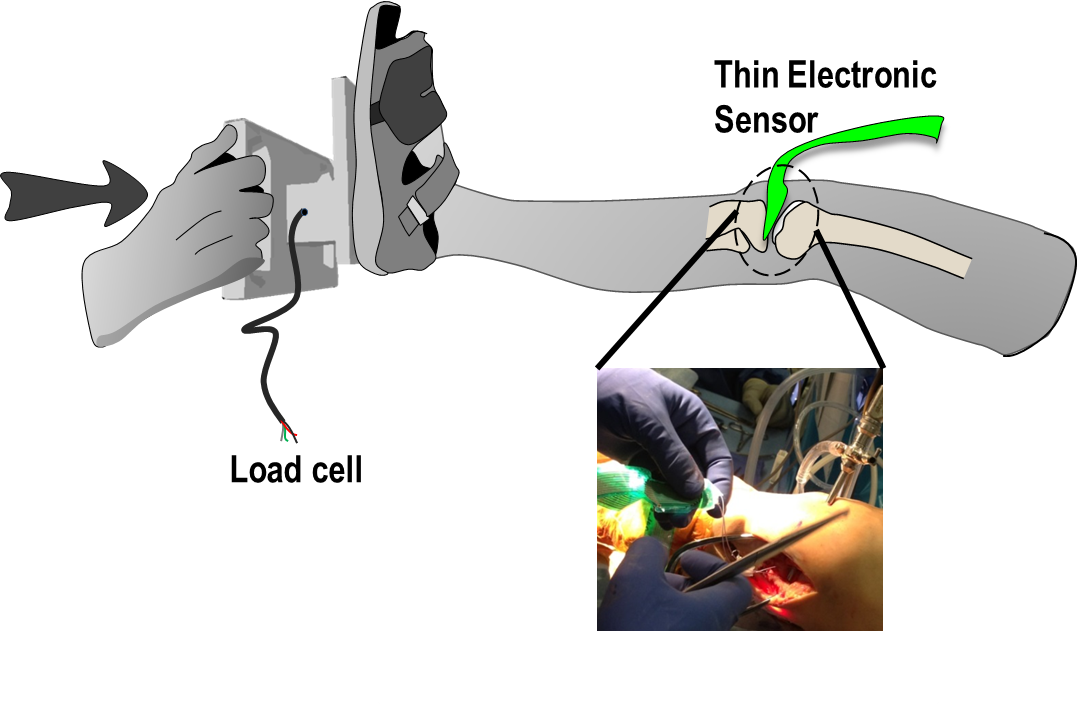 Patient-based models where contact mechanics can be measured during surgery
Laboratory Personel
Our laboratory consists of mechanical engineers, biologists, chemical engineers and orthopaedic surgeons from the Sports Medicine Service. We have multidisciplinary collaborations with statisticians, and computational engineers which enable us to combine state-of-the-art cadaveric, computational, statistical, tissue explant and patient-based models.
Principal Investigator
Suzanne Maher, PhD, Associate Scientist & Laboratory Director
Instructor
Research Engineer
Research Technicians
Claire Lynch, B.Sc
Ashley Pekmezian, BS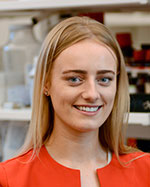 Claire Lynch, B.Sc
Claire Lynch joined the Soft Tissue Research laboratory at HSS in March 2019 as a research technician. She graduated from University College Dublin, Ireland in September 2018 with a B.Sc in Neuroscience.
She is currently focusing on understanding the cellular response of joint contact mechanics; in respect to osteoarthritis. Her work involves applying various mechanical loads (pre- and post-injury) to human cartilage; with the goal to further our understanding of the cellular and molecular mechanisms in response to these loads. She is also working on identifying the variability in histology and shear mechanics between donor osteochondral allografts.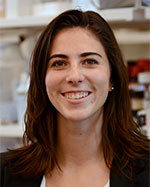 Ashley Pekmezian, BS
Ashley Pekmezian joined the laboratory in August of 2019 as part of the post-baccalaureate program at HSS. Ashley graduated in May of 2019 with a B.S. in Biomedical Engineering and a concentration in Biomechanics and Mechanobiology from Cornell University.
At HSS, she works on a range of projects that aim to understand the relationship between contact mechanics and tissue degeneration in osteoarthritis. She has developed an algorithm that eases analysis of contact pressure data from a sensor inserted within the knee joint, and she will begin working to develop a new sensor that can be used intra-operatively.
OPPORTUNITIES TO JOIN OUR GROUP:
Research position available:
Post-doctoral fellowship in cadaveric simulator testing
HSS Collaborators
Russell Warren, MD
Peter Torzilli, PhD
Scott Rodeo, MD
Timothy Wright, PhD
Matt Koff, PhD
Hollis Potter, MD
External partnerships
Amy Lerner, PhD - University of Rochester
Tom Santner, PhD - The Ohio State University
Erin Leatherman, PhD - Kenyon College
Markus Wimmer, PhD - Rush University
Susan Chubinskaya, PhD - Rush University
Matthew Posner, PhD - United States Military Academy West Point
Alumni
Full Time:
Funmi Adebayo, PhD, Assistant Dean of Inclusion and Diversity, University of Massachusetts at Amherst, MA
Aliza Allon, PhD, McKinsey and Company
Devon Charlton, MD, Medical Resident, Danbury Hospital
Kirsty Culley, PhD, Science Engagement Manager at Anglia Innovation Partnership LLP
Patrick Donnelly, PhD, School of Dental Medicine, University of Pittsburgh
Jordan Green, University of Chicago Medical School
Hongqiang Guo, PhD, Senior Data Scientist at GNS Healthcare
Horng-Chaung Hsu, MD, Professor and Chairman Department of Orthopaedic Surgery, China Medical University Hospital, Taichung, Taiwan.
Kiwon Joh, Co-Founder at Blocklink Ventures
Mehdi Khoshgoftar, PhD, Sr. Computational Material Scientist at ASML and Adjunct Assistant Scientist at HSS
Cathal Moran, Professor of Orthopaedics and Sports Medicine; Consultant Orthopaedic Surgeon, Sports Surgery Clinic, Ireland
Kenneth W Ng, PhD, Assistant Medical Director for Health Science Communications
Lorenzo Pio Serino, Development Scientist, Orthox, UL
Alexander Shields, BS, Full time student at Duke University
Hongsheng Wang, PhD, Hardware Engineer, Google Wearable Technologies
Florian Wanivenhaus, Balgrist University Hospital, Department of Orthopaedics, University of Zurich, Switzerland
Supansa Yodmuang, PhD, Assistant Scientist, University of Thailand
Part Time:
John Anderson, MD, Rothman Institute Orthopaedics
Asheesh Bedi, MD, Ann Arbor, Michigan
Nicole Belkin, Columbia Orthopaedics
Robert Brophy, MD, Washington University Physicians
Saddiq El-Amin, MD, PhD, Southern Illinois University School of Medicine
Sommer Hammoud, MD, Rothman Institute Orthopaedics
Ian Hutchinson, Albany Medical College
Aaron Krych, MD, The Mayo Clinic
Moira McCarthy, MD, Hospital for Special Surgery
Michael Suk, Chairman, Department of Orthopaedic Surgery, Geisinger
Steven Thornton, MD, Texas Orthopaedic Associates
Dean Wang, MD, University of California, Irvine