Patient Case History: Carol
Lengthening and deformity correction in fibrous dysplasia with osteotomy and hip replacement
Pre-Op
Patient Surgeon: S. Robert Rozbruch
Carol has a 14 cm leg length discrepancy and severe deformity from fibrous dysplasia. The tibia is in valgus and external rotation. The hip is stiff, arthritic, and fixed in an adduction position.
Post-Op
She was treated with a total hip replacement and a 2 level tibial osteotomy to correct her deformities.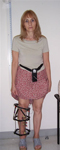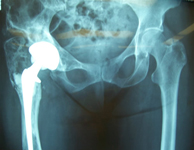 Follow-Up
With complete correction of all deformities, she has gained a large amount of length. Her hip is mobile and her legs are straight.
Return to Patient Case Histories