Patient Case History: Herbert
Internal Lengthening Nail (ISKD device)
Pre-Op
Patient Surgeon: S. Robert Rozbruch
Herbert sustained a femur fracture many years back. This healed in a poor position with deformity and shortening. He had back pain, 4 cm of shortening, and hyperextension of his knee.
Post-Op
An osteotomy of the femur was done to straighten the femur and the ISKD rod was implanted. Gradual lengthening followed without the need for external fixation. After 5 weeks, full lengthening was achieved.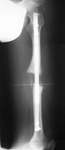 Follow-Up
Final result shows equal leg lengths, no deformity, and full hip and knee mobility.
Return to Patient Case Histories