Russell F. Warren, MD, Award for Excellence in Orthopaedic Basic/Translational Research
The Russell F. Warren, MD, Research Award is presented to a resident for excellence in Othopaedic Basic/Translational Research.
2015
Benjamin F. Ricciardi, MD
"PTH Enhances Cancellous Osseointegration in a Physiologically Loaded Murine Model"
Joseph J. Schreiber, MD
"Mechanism of Acute Elbow Dislocation: Importance of the Medial Collateral Ligament"
2014
Peter F. Fabricant, MD, MPH
"Development and Validation of a Pediatric Sports Activity Rating Scale"
2013
Alison F. Kitay, MD
"The Role of Wnt Signaling in Age-Related Impaired Fracture Healing"
2012
Michael B. Cross, MD
"Parathroid Hormone and Alendronate Reduce Fractures and Alter Bone Quality in an oim/oim Mouse Model of Osteogenesis Imperfecta"
2011
Sommer Hammoud, MD
"Attaching Implants to Articular Cartilage: Functionalizing with a Collagen Adhesion Protein"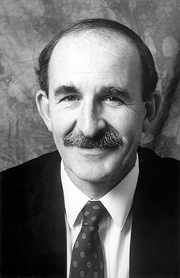 Russel F. Warren, MD
Contact Us
Contact your Alumni Association at tel: 212.606.1823 or alumni@hss.edu.