COVID-19 Prevention and Preparedness
A multidisciplinary team of specialists at HSS is monitoring the coronavirus situation and following CDC guidance on prevention and preparedness. Measures include rigorous monitoring, previsit screenings, entry notices, increased hygiene resources for patients and visitors, and continuous guidance for staff.
Learn what to know as an HSS patient or visitor
HSS Excellence in Infection Control
As a leading center specializing in orthopedic surgical procedures, controlling the risk of infection is always among our highest priorities and most important accomplishments.
Since the factors that can lead to an infection are many, only a rigorous, comprehensive approach with a relentless focus on infection control at every stage provides the greatest protection from infection.
At HSS, we take infection prevention and control very seriously and our practices go beyond Centers for Disease Control and Prevention (CDC)-mandated protocols for infection control to include patient education, state of the art operating rooms, infection reducing surgical practices, enhanced sterilization methods and many disciplined infection control practices by our staff that go the extra mile to limit infection risk. We believe that our high-priority focus on infection control at every stage of contact is a key reason that HSS maintains a very low infection rate compared to other hospitals in New York State.
The New York State Department of Health shared data from hospitals that performed hip replacement or revision surgery in New York State. We consistently have a hip surgical site infection (SSI) rate lower than the New York State average. Read the most recent report (2019, released May 2021).
Additionally, the National Healthcare Safety Network, a project of the CDC, also reported that our hip infection rate was less than what would have been expected for our patient mix. This is an important distinction as we treat many patients with complex needs.
Low Infection Rates in Pediatrics
At HSS we approach infection prevention in our pediatric patients with special care.
The rate of central line associated blood stream infections on the inpatient pediatric unit has consistently been 0.00 over the 12 reported quarters. Additionally, the rate of catheter associated urinary tract infections on the inpatient pediatric unit has consistently been 0.00 over the 12 reported quarters.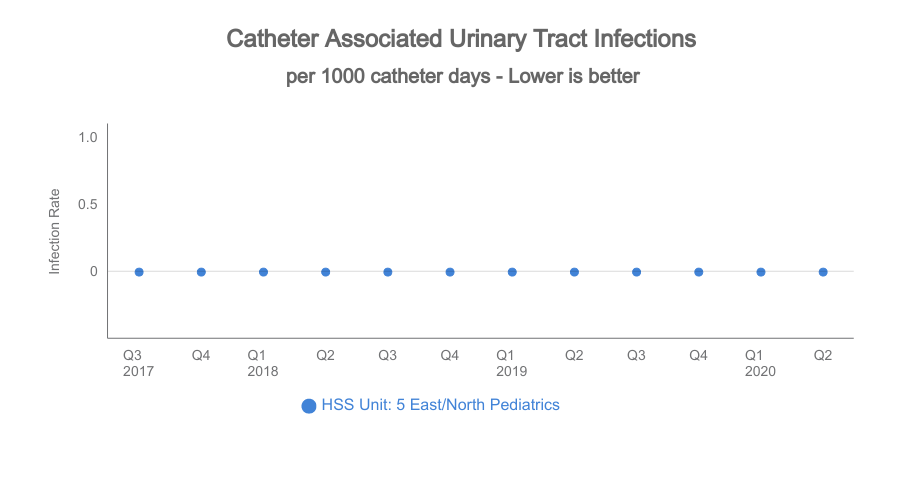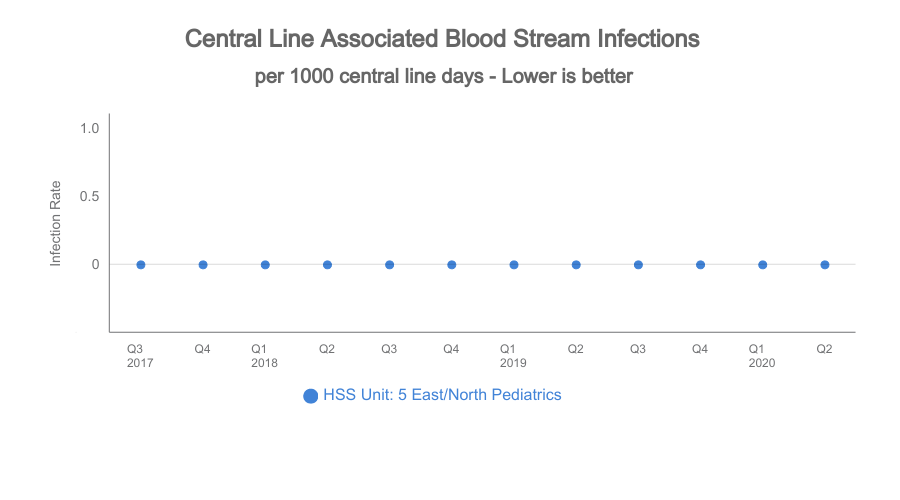 Contributing Factors to the Low Infection Rate at HSS
Hand Hygiene - Cleaning our hands before giving care (by hand washing or using a special antibacterial hand gel) is still one of the most important ways to prevent the spread of infection and to keep you safe. At HSS, our hand hygiene compliance rates are close to 100%. We have accomplished this through a hospital-wide educational campaign to encourage all staff, patients, and visitors to regularly wash hands. To encourage hand hygiene, we installed hand sanitizer machines throughout the hospital for use by staff, patients, and visitors. Additionally, the Hospital distributes patient education materials that encourage patients to ask their providers if they have washed their hands.
Operating Rooms – Each of our uniquely-designed operating rooms are equipped with Plexiglas separation panels and a high-tech air filtration system designed to eliminate bacteria from the air in the room and to control the air flow, simultaneously reducing the risk of infection and purifying the air. Our surgeons also wear specially-designed hooded protective suits to maintain the strictest sterile environment possible. Infection prevention nurses collaborate with operating room staff to ensure that appropriate infection prevention protocols and practices are followed.
Infection Reducing Surgical Practices – Surgical procedures for joint replacement at HSS are performed skillfully and quickly, lessening the time of surgery and reducing the chance of infection. Almost all joint replacements are conducted under regional rather than general anesthesia, which has been shown to reduce the chance of having a surgical infection by fifty percent.
Enhanced Sterilization Methods – Robust sterilization procedures are also an important factor in infection control. Our central sterile supply department uses separate designated elevators to transport sterile and non-sterile supplies to and from surgical suites. Seven automated state-of-the-art washing disinfectors and a wide variety of cleaning tools help us to achieve maximum cleanliness. Every sterilization cycle is monitored using a biological and chemical indicator test. Loads are reviewed by a trained and certified central sterile processing (CSP) technician who verifies that all parameters for appropriate sterilization have been achieved. All instruments are inspected and carefully reviewed for functionality and cleanliness through stringent processes and best practices before sterile products are delivered to perioperative areas.
Disciplined Staff Infection Control Practices – Our comprehensive infection control practices also go well beyond the operating room. Infection control is an important pillar of our staff culture and training; from hand-washing discipline to patient contact controls. Our staff is relentlessly focused on reducing infection risk. We continuously review these procedures and investigate the cause of any infection in order to further improve our practices. The Hospital's multidisciplinary Infection Control Committee, composed of more than 20 members from a variety of disciplines across the hospital (including surgeons), meets monthly to review a broad range of activities related to infection surveillance, prevention and staff training – from how instruments and implants are sterilized to procedures for cleaning patient rooms and beds.
Patient Education Programs – Since most of our procedures are scheduled elective surgeries, we are able to offer patients (and family members who might assist the patient during the recovery period) pre-operative classes taught by registered nurses to ensure full understanding of key surgical procedures as well as educate on infection prevention steps, particularly once the patient returns home. An infection prevention booklet and other materials help us equip our patients and their families to become important allies in the continuous process of infection control.
Leading the Field – At HSS we help ensure that professionals, patients, and all stakeholders in healthcare understand the importance of infection, especially in what is our strongest contribution to medicine, musculoskeletal care. We know the dire consequences of a procedure or environment that is not optimal for patients, and we work to consult around the world on how to optimize care for patients.
Back to Quality and Safety at HSS