Case Example
A 22 year-old male baseball player fell while running and sustained a twisting injury to his left lower extremity. He was taken to a local hospital and radiographs revealed a spiral oblique distal 1/3 tibia fracture. He was initially placed in a long leg cast and referred to David L. Helfet, MD at the Orthopedic Trauma Service of Hospital for Special Surgery for definitive management. Open reduction and internal fixation (ORIF) was performed with insertion of an intramedullary nail and locking screws. He returned for regular follow-up and healed uneventfully. At the time of his latest follow-up visit, 9 months following fracture surgery, he has excellent radiographic and clinical results including a healed distal tibia fracture in good alignment, resolution of pain, and a return to pre-injury activities including baseball.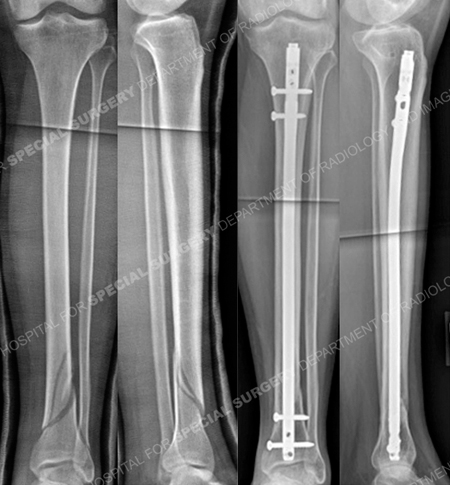 Anteroposterior (AP) and lateral injury radiographs (left images) reveal a spiral oblique distal third tibia fracture and AP and lateral radiographs 9 months following surgery (right images) reveal a healed distal tibia fracture.
Research Publications
The HSS Orthopedic Trauma Service has conducted many studies. Please see our publications on tibia fractures.