Case Example
A 41-year-old male was involved in a high speed accident and was taken to the Orthopedic Trauma Service of Hospital for Special Surgery for treatment by David L. Helfet, MD. Radiographs revealed a right-sided talus fracture. Through a minimally invasive technique, the talus fracture was reduced and fixed using 2 cortical screws. He continued to return at regular follow-up intervals and healed uneventfully, and at 1 year following fracture surgery he presented with an excellent outcome including excellent radiographic and clinical results, resolution of pain and returned to his pre-injury activities.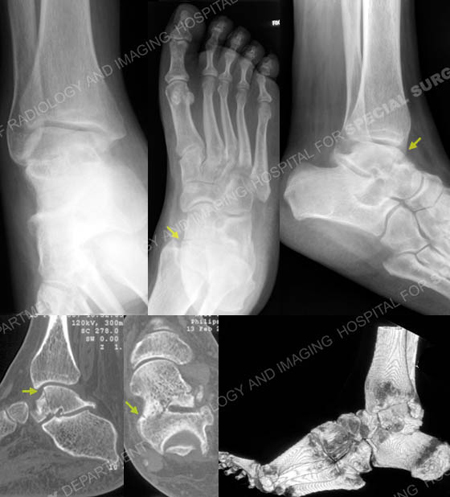 Anteroposterior, Canale and lateral radiographs revealing a talus fracture (arrows). CT scan images further delineating the talus fracture pattern (arrows).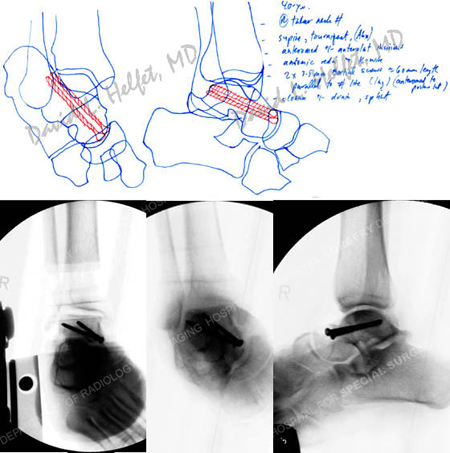 Pre-operative plan (top image) and fluoroscopic images following open reduction and internal fixation.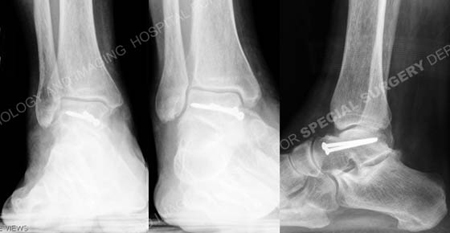 Anteroposterior, mortice and lateral radiographs at 1 year illustrating a healed talus fracture.
Research Publications
The HSS Orthopedic Trauma Service has conducted many studies. Please see our publications on talus fractures.