Case Example
A 34-year-old male fell while snowboarding onto his outstretched right upper extremity and radiographs revealed a right-sided scaphoid fracture. He was referred to the care of Andrew J. Weiland, MD at the Orthopedic Trauma Service of Hospital for Special Surgery. Through a minimally invasive technique, the scaphoid fracture was anatomically reduced and fixed using a percutaneous headless screw. He continued to return at regular follow-up intervals and 4 months following fracture surgery, he presented with an excellent outcome including a healed scaphoid fracture, full range of motion, resolution of pain symptoms and return to all pre-injury activities.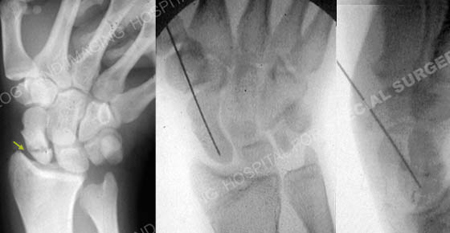 Anteroposterior (AP) radiograph (left image) revealing a scaphoid fracture and intraoperative fluoroscopic AP and lateral radiographic images (right images) illustrating reduction of the scaphoid fracture prior to placement of percutaneous screw fixation.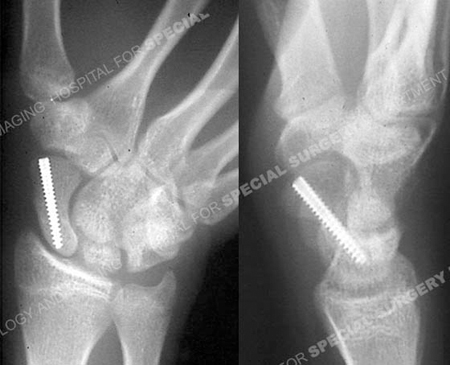 Anteroposterior and lateral radiographs at 4 months illustrating a healed scaphoid fracture in anatomic alignment.
Research Publications
The HSS Orthopedic Trauma Service has conducted many studies. Please see our publications on scaphoid fractures.