Case Example
Pediatric Pelvic Fracture
A 13-year-old schoolgirl was struck by a car moving at about 25 miles per hour. She was thrown some distance but did not lose consciousness and was emergently taken to a local trauma center. She sustained a complex pelvic ring Open Book type injury with some widening of the pubic symphysis and a vertical shear fracture/dislocation of the right sacrum involving the sacral foramen and the SI joint (Tile Type C3.3) and bilateral superior and inferior pubic rami fractures. She had a Salter Type II fracture of the right distal femur and a non-displaced fibula neck fracture. Initial treatment and resuscitation mandated 8 units of blood transfusion. She was transferred to the care of Dr. David L. Helfet at the Orthopedic Trauma Service at Hospital for Special Surgery for definitive management of her orthopaedic injuries. She was initially treated with debridement of the degloving injury and application of an anterior pelvic external fixator to her pelvis as well as ORIF of the distal femur fracture. She was then taken to the operating room 6 days later for definitive management of the pelvic ring injuries with the assistance of Dr. Roger F. Widmann of Hospital for Special Surgery, Pediatric Orthopedic Service. The external fixator was removed and ORIF was performed through a posterior approach. Spino-pelvic fixation was then applied at the L5/pedicles bilaterally and S1 on the left side. One iliac bolt was placed in the iliac wing on the left side and two iliac bolts were placed on the right side. The entire construct was then joined together with rods. The patient was then repositioned supine and the anterior pelvic external fixator was reapplied, and then later removed at 7 weeks following ORIF. The patient returned for regular follow-up visits and at 7 months following surgery, clinical and radiographical exams revealed an excellent result and bony union of the sacrum and rami fractures and she was ambulating without pain. She had complete neurological function including 5/5 motor strength in her extensor hallucis longus, tibialis anterior, tibialis posterior, gastrocnemius, quadratus femoris, hamstring, iliopsoas and normal sensation in all distributions. She also reports no pain, she has a full ROM and walks without a perceptible limp. She has returned to all activities including bicycling, stair climbing, treadmill and swimming. Removal of spino-pelvic hardware was performed at 19 months. She last followed up at 22 months and she also returned to play lacrosse, her previous sport, and was without problems.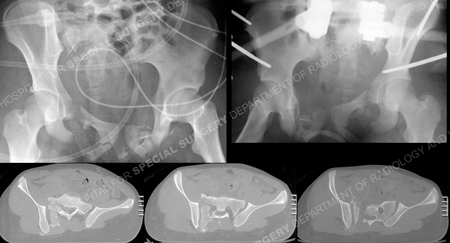 Pelvic radiograph obtained following the injury (top left image) and following placement of pelvic external fixation (top right image) and CT scan images (bottom images).


Radiograph following anterior pelvic external fixation (top image), anteroposterior radiograph following fracture reduction and placement of spino-pelvic fixation (middle image), and postoperative CT scan images showing acceptable reduction and hardware positioning (bottom images).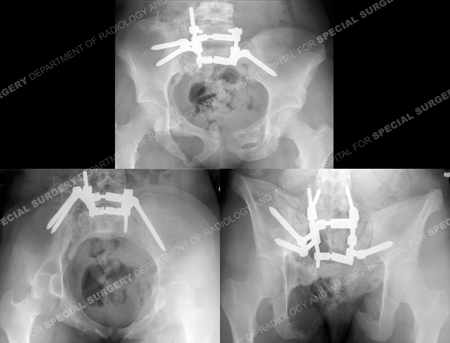 Pelvic radiographs including AP, inlet and outlet views (from top to bottom) at 19 months.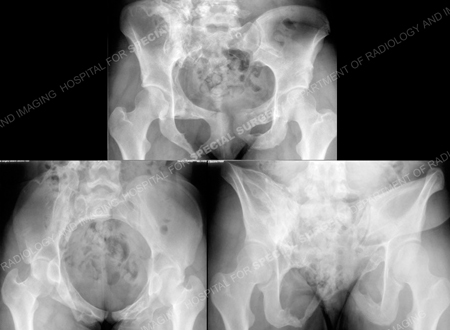 Pelvic radiographic x-rays 3 months following removal of hardware (and 22 months following the injury).
Research Publications
The HSS Orthopedic Trauma Service has conducted many studies. Please see our publications on pelvic fractures and fractures in adolescents.