Case Example
A 33-year-old male was involved in a high-speed motorcycle accident and sustained multiple open injuries. He was taken to a local hospital and radiographic examination revealed a right-sided (open) complex distal femur fracture with bone loss and ipsilateral (open) mid-shaft tibia and fibula fracture. The open wounds were irrigated and debrided on multiple occasions. The tibia fracture was treated with placement of an intramedullary nail and a spanning external fixator was placed for the distal femur fracture. The local medical team then contacted the office of David L. Helfet, MD at the Orthopedic Trauma Service at Hospital for Special Surgery to arrange a patient transfer for definitive management of his comminuted distal femur fracture. Open Reduction and Internal Fixation (ORIF) was performed with placement of a LISS locking plate with fixation of the femoral condyles restoring the articular surface, alignment and length. He returned for regular follow-up and healed uneventfully. At 1 year following fracture surgery he presented with excellent radiographic and clinical results including a healed distal femur and tibia/fibula fractures, resolution of pain, and a return to pre-injury activities including golf.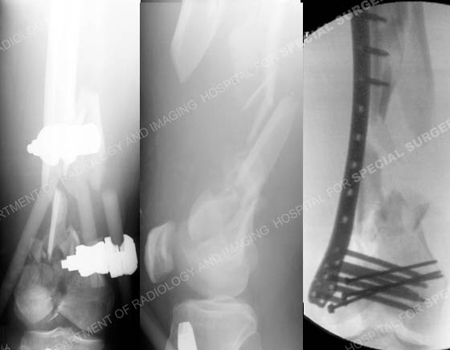 Anteroposterior (AP), and lateral radiographs (left images) revealing a supracondylar distal femur fracture (AO/OTA Type C3.3) with segmental bone loss. Intraoperative fluoroscopic AP image (right image) following fracture reduction placement of LISS plate.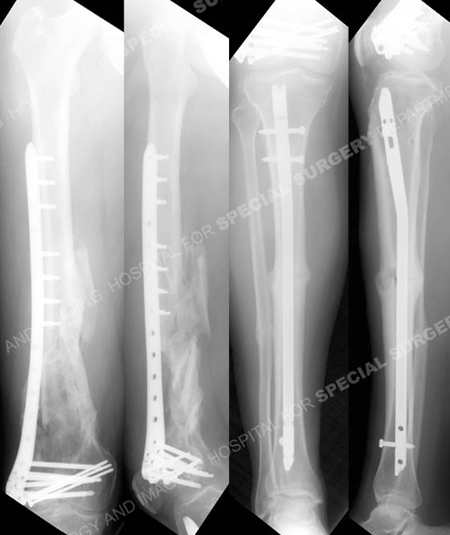 Anteroposterior and lateral femur and tibia radiographs at 1 year illustrating healed distal femur and tibia fractures in excellent alignment.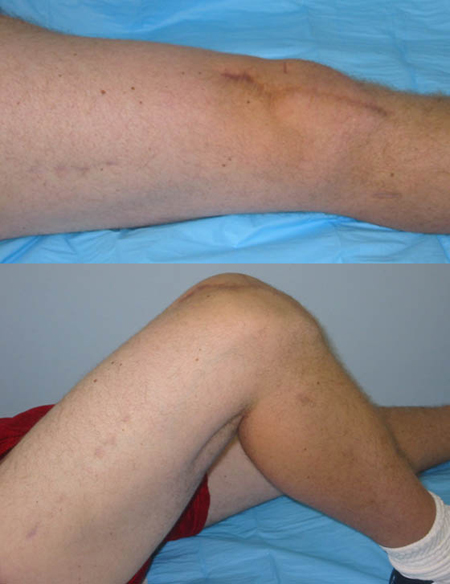 Clinical photographs at 1 year illustrating restoration of functional range of motion.
Research Publications
The HSS Orthopedic Trauma Service has conducted many studies. Please see our publications on open fractures, tibia fractures and complex fractures.