Case Example
Schatzker II tibial plateau fracture
A 61-year old female was hiking in the mountains when she slipped and fell onto her left lower extremity. She was taken to a local hospital and radiographs revealed a left-sided Schatzker II tibial plateau fracture (split with depressed fragment) and she was referred to Dr. David L. Helfet at the Orthopedic Trauma Service at Hospital for Special Surgery one day following her injury for definitive treatment. Open reduction and internal fixation (ORIF) was performed and included elevation of the depressed fragment, placement of bone graft, reduction of the articular surface and metaphyseal extension and placement of a proximal tibia locking plate and screws. She returned for regular follow-up and healed uneventfully. At the time of her latest follow-up visit, 7 months following fracture surgery, she has excellent radiographic and clinical results including a healed tibial plateau fracture in excellent alignment, maintenance of fixation and knee joint space, complete pain resolution, full range of motion and a return to pre-injury activities.

Anteroposterior and lateral radiographs revealing a Schatzker II tibial plateau fracture.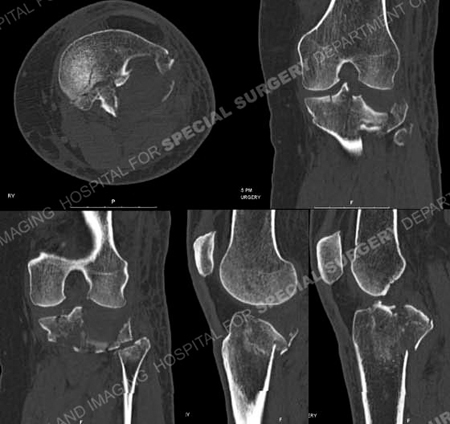 CT scan images further delineating the fracture pattern and depressed bone fragment.
Research Publications
The HSS Orthopedic Trauma Service has conducted many studies. Please see our publications on tibia fractures, use of locking plates in fracture treatment, and fracture healing.