Case Example
A 39-year-old male fell while rollerblading onto his outstretched left upper extremity and radiographs revealed a left-sided scaphoid fracture. He was referred to the care of Dr. Andrew J. Weiland at Hospital for Special Surgery where he underwent surgical treatment. The scaphoid fracture was reduced and fixed through a minimally invasive approach with percutaneous placement of a headless screw through the scaphoid body. He continued to return at regular follow-up intervals and 6 months following fracture surgery, he presented with an excellent outcome including a healed scaphoid fracture, full range of motion, resolution of pain and return to all pre-injury activities.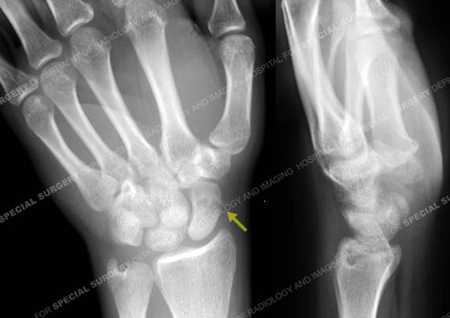 Anteroposterior radiograph revealing a scaphoid fracture (arrow).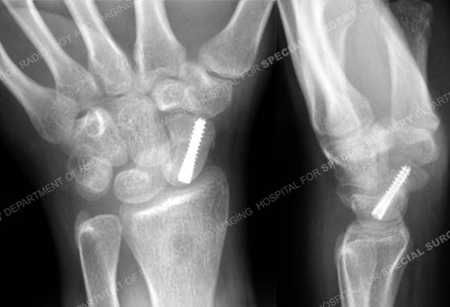 Anteroposterior and lateral radiographs at 6 months illustrating a healed scaphoid fracture.
Research Publications
The HSS Orthopedic Trauma Service has conducted many studies. Please see our publications on hand fractures and scaphoid fractures.