Case Example
Mid-shaft Stress Fracture of the Anterior Tibial Cortex
A 19-year-old female Olympic pole vaulter presented to the Dr. David L. Helfet at the Orthopedic Trauma Service at Hospital Special Surgery with a 12-month history of right-sided tibia pain. Radiographs revealed a mid-shaft stress fracture of the anterior tibial cortex. After past unsuccessful initial treatment with rest and physiotherapy modalities (including ultrasound) for 5 months, she underwent anterior tension band plating with a locked LCP plate and unicortical and bicortical screws. Postoperative follow-up was uneventful and bony union was noted at 3 months postoperatively at which time she resumed her training regime. Two years after the operation, the patient complained of mild discomfort related to the plate, and the hardware was removed. At most recent date of follow up, 2 years post surgery, she is doing exceptionally well with resolution of pain and began training again for the United States Olympic team.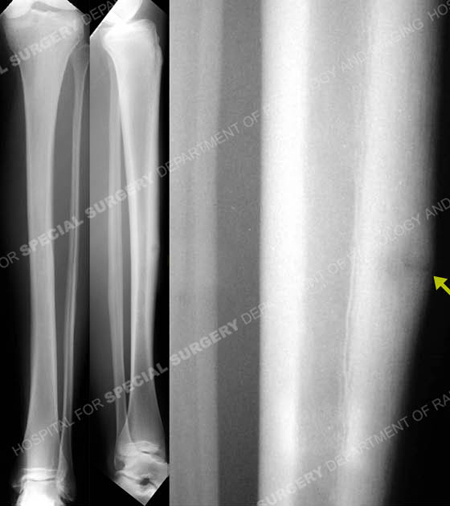 Anteroposterior and lateral radiographs reveal a stress fracture of the anterior tibial cortex.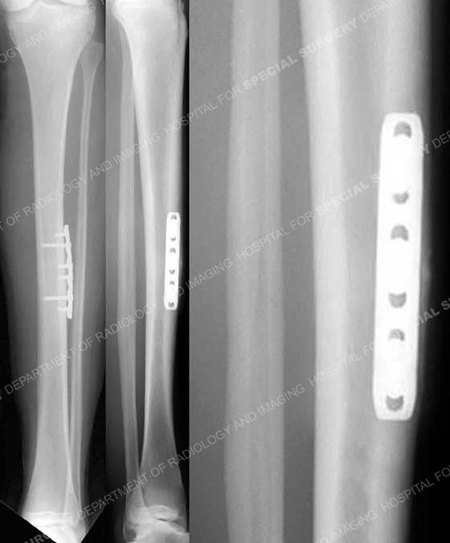 Anteroposterior and lateral radiographs 3 months following anterior tension band plating
illustrating a healed tibial stress fracture.
Research Publications
The HSS Orthopedic Trauma Service has conducted many studies. Please see our publications on stress fractures, fracture healing, fractures in athletes, and use of locking plates in fracture treatment.