Case Example
Femoral Head Fracture and Associated Posterior Wall Acetabular Fracture
A 64-year-old female was involved as a passenger in a high-speed motor vehicle accident while on vacation in Nicaragua. She was taken to a local hospital and diagnosed with a right-sided posterior hip dislocation that was closed reduced. She also had an associated right-sided Pipkin IV Type fracture of the femoral head with associated Posterior Wall Type fracture of the acetabulum. After placement of skeletal traction she was transferred to the care of Dr. David L. Helfet at the HSS Orthopedic Trauma Service through a medical flight facilitated through her travel insurance. Open reduction and internal fixation (ORIF) was performed through a Kocher-Langenbeck surgical approach with an anterior surgical hip dislocation. The Posterior Wall fracture was reduced and fixed with one-third tubular and pelvic reconstruction plates and screws. The femoral head fracture was reduced and fixed with sub-articular screws and preservation of the blood supply, reduction, hip stability, and adequate hardware placement was confirmed. At the time of her latest follow-up at 5 months radiographs reveal healed acetabular and femoral head fractures and maintenance of reduction with mild degenerative changes in the hip joint.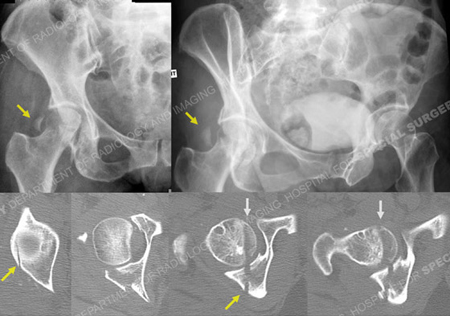 X-rays (top) revealing a right-sided Pipkin IV femoral head fracture and associated Posterior Wall acetabular fracture (yellow arrows) and CT scan images (bottom) further delineating the fracture patterns (femoral head fracture is indicated with grey arrows).


Pre-operative plan (left) and postoperative CT scan images (right) 1 day following ORIF.


Radiographs at 5 months postoperative revealing healed femoral head and acetabular fractures.
Research Publications
The HSS Orthopedic Trauma Service has conducted many studies. Please see our publications on femoral head fractures, fracture treatment in older populations, and acetabular fractures.