Dr. Andrew J. Weiland Receives Highest Leadership Honor at AAOS
AAOS—March 26, 2015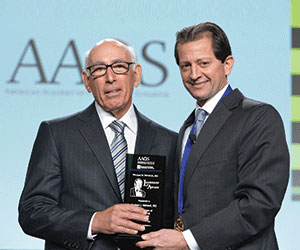 Andrew J. Weiland, MD, of New York, N.Y., was presented the 2015 William W. Tipton, Jr., MD, Leadership Award.
Dr. Weiland is known for his pioneering work and expertise in microvascular surgery of the hand, and is an attending orthopedic surgeon at the Hospital for Special Surgery, and professor of orthopedic surgery and professor of surgery (plastic) at the Weill Cornell Medical College, both in New York.
Read the full story at newsroom.aaos.org.
<!IoRedDot_hdl_pageTitle>
Media Contacts
<!IoRedDot_hdl_pageTitle>
Social Media Contacts