Las Vegas—May 22, 2017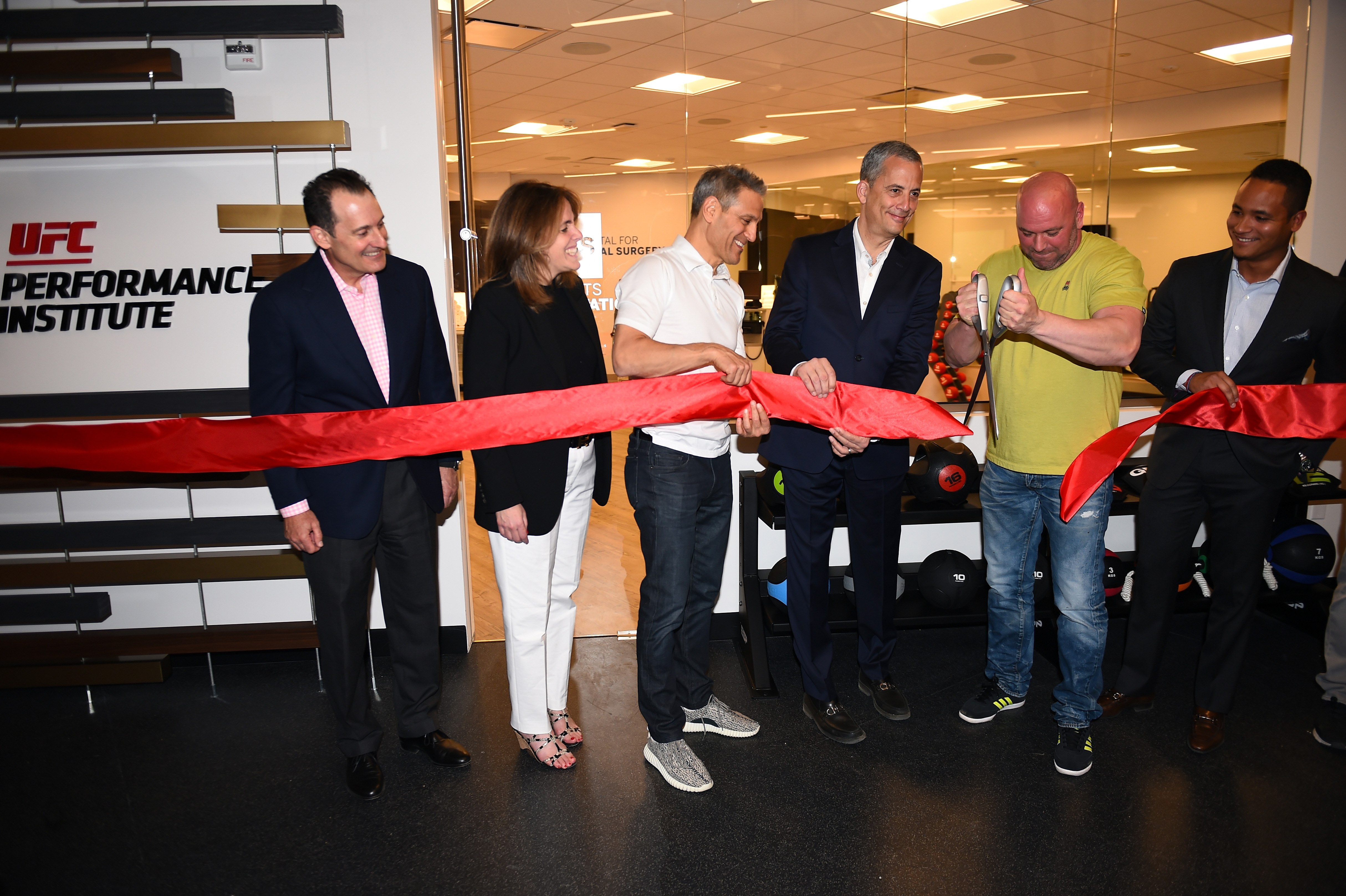 UFC® today announced that Hospital for Special Surgery (HSS) will serve as the global brand's first-ever Official Hospital. The new multi-year partnership provides UFC with access to the hospital's sports medicine physicians, who will serve as orthopedic consultants in conjunction with the brand's medical team.
"We are excited to partner with a world-class medical provider of HSS' caliber," UFC Chief Operating Officer Ike Lawrence Epstein said. "The health and safety of UFC athletes is our top priority, and this partnership further extends the best-in-class services available to the athletes both in and out of the Octagon."
Founded in 1863, Hospital for Special Surgery is the world's leading academic medical center dedicated to musculoskeletal health. HSS has been nationally ranked No. 1 for orthopedics for the past seven consecutive years by U.S. News & World Report's Best Hospital rating. HSS is currently ranked No. 2 in the nation for rheumatology.
"HSS' purpose is to help people get back to what they need and love to do, better than any other place in the world," said Louis A. Shapiro, HSS President and Chief Executive. "We are privileged to now support UFC as we do other high performing athletic organizations including the Brooklyn Nets, New York Giants, New York Knicks, New York Mets, New York Red Bulls, New York Road Runners and many others."
HSS is the first designated National Medical Center of the United States Olympic Committee's (USOC) National Medical Network, as well as a Fédération Internationale de Football Association (FIFA) Medical Centre of Excellence.
Bryan Kelly, M.D.,Chief of the Sports Medicine Service at HSS, will serve as UFC's Head Consulting Orthopedic Surgeon. He will lead a team of HSS orthopedic surgeons who will be on-call during UFC events for orthopedic consultation. HSS will also assist UFC in the recruitment and placement of physical therapists who will be onsite at the HSS Sports Rehabilitation Center at the UFC Performance Institute. As the world's first mixed martial arts multi-disciplinary research, innovation and performance center, the Performance Institute is a state-of-the-art 30,000 square-foot facility provides benefits and services to all athletes competing under the UFC banner.
"Injuries are an inherent by product of playing sports especially at the elite and professional levels," said Dr. Kelly. "HSS has helped thousands of athletes get back in the game and offers unmatched orthopedic care. We look forward to working with the UFC to keep players healthy and safe."
As the organization's Official Hospital, HSS will receive branding on UFC's world-famous Octagon® at select events, as well as digital and social advertising, along with participating in UFC-based corporate social responsibility programs. For more information, please visit UFC.com.
About UFC®
UFC® is a premium global sports brand and the largest Pay-Per-View event provider in the world. Acquired in 2016 by global sports, entertainment and fashion leader, WME | IMG, together with strategic partners Silver Lake Partners and KKR, UFC is headquartered in Las Vegas with a network of employees around the world. UFC produces more than 40 live events annually that consistently sell out some of the most prestigious arenas around the globe, while programming is broadcast in over 152 countries and territories to more than 1.1 billion TV households worldwide in 35 different languages. UFC FIGHT PASS®, a digital subscription service, delivers exclusive live events, thousands of fights on-demand and original content to fans around the world. For more information, visit UFC.com and follow UFC at Facebook.com/UFC, Twitter, Snapchat and Instagram: @UFC.
About HSS | Hospital for Special Surgery
HSS is the world's leading academic medical center focused on musculoskeletal health. At its core is Hospital for Special Surgery, nationally ranked No. 1 in orthopedics (for the ninth consecutive year) and No. 3 in rheumatology by U.S.News & World Report (2018-2019). Founded in 1863, the Hospital has one of the lowest infection rates in the country and was the first in New York State to receive Magnet Recognition for Excellence in Nursing Service from the American Nurses Credentialing Center four consecutive times. The global standard total knee replacement was developed at HSS in 1969. An affiliate of Weill Cornell Medical College, HSS has a main campus in New York City and facilities in New Jersey, Connecticut and in the Long Island and Westchester County regions of New York State. In 2017 HSS provided care to 135,000 patients and performed more than 32,000 surgical procedures. People from all 50 U.S. states and 80 countries travelled to receive care at HSS. In addition to patient care, HSS leads the field in research, innovation and education. The HSS Research Institute comprises 20 laboratories and 300 staff members focused on leading the advancement of musculoskeletal health through prevention of degeneration, tissue repair and tissue regeneration. The HSS Global Innovation Institute was formed in 2016 to realize the potential of new drugs, therapeutics and devices. The culture of innovation is accelerating at HSS as 130 new idea submissions were made to the Global Innovation Institute in 2017 (almost 3x the submissions in 2015). The HSS Education Institute is the world's leading provider of education on the topic on musculoskeletal health, with its online learning platform offering more than 600 courses to more than 21,000 medical professional members worldwide. Through HSS Global Ventures, the institution is collaborating with medical centers and other organizations to advance the quality and value of musculoskeletal care and to make world-class HSS care more widely accessible nationally and internationally.