Meredith Vieira to serve as toastmaster
NEW YORK CITY—June 18, 2012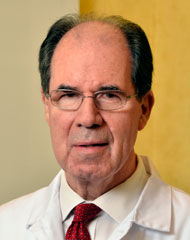 Patrick F. O'Leary, M.D., a renowned spine surgeon and former chief of the Spine Service at Hospital for Special Surgery, will receive the Lifetime Achievement Award at the hospital's 29th Annual Tribute Dinner on Monday, June 18, at the Waldorf=Astoria.
The event will also honor internationally recognized business leader William C. Weldon, chairman of Johnson & Johnson. Nobel Prize-winning scientist Torsten N. Wiesel, M.D., president emeritus of Rockefeller University, will receive the Distinguished Service Award. Dr. Wiesel serves on the Hospital for Special Surgery Board of Trustees.
Meredith Vieira, NBC News special correspondent and host of the popular television show "Who Wants To Be A Millionaire," will serve as toastmaster. She will be joined by special guest Ronnie P. Barnes, senior vice president for Medical Services for the Super Bowl-winning New York Football Giants. Some members of the triumphant team will attend the dinner.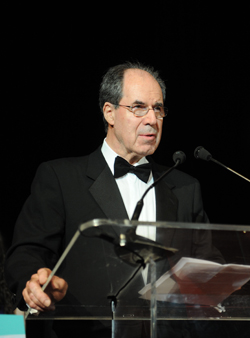 Dr. Patrick O'Leary has focused on the fundamental principles and evolving techniques of spine surgery over the past 35 years. He specializes in the surgical management of disorders of the cervical, thoracic and lumbar spine, including revision surgery. He helped co-develop the Spine Section in Biomechanics in 1990 and establish the Biomechanics Fellowship at Hospital for Special Surgery in 1991.
"We are pleased to honor Dr. O'Leary for his many achievements," said Louis A. Shapiro, president and chief executive officer of Hospital for Special Surgery. "People come to see Dr. O'Leary from across the country and around the world based on his reputation for taking on complex cases and providing highly sophisticated spine care."
Professional athletes, including members of the New York Mets, New York Knicks, New York Jets and New York Rangers are among those he has treated.
With a special interest in the area of surgical technology and advances in surgical technique, Dr. O'Leary collaborates with colleagues in the United States and Europe. He has maintained a 25-year relationship with German Professor Dr. Jurgen Harms, considered by many to be the greatest spine surgeon of his generation.
"Dr. O'Leary's incredible skill and dedication to his patients have made him a leader at HSS and in international spine surgery. His work has improved surgical techniques and patient care and led to great advances in the field of spine surgery," said Thomas P. Sculco, M.D., surgeon-in-chief at Hospital for Special Surgery.
"I am deeply honored to receive the Lifetime Achievement Award from Hospital for Special Surgery," Dr. O'Leary said. "It has been a privilege to work and grow professionally at one of the finest specialty hospitals and orthopedic research centers worldwide."
Dr. O'Leary was born in Ireland and attended medical school at the National University of Ireland. He completed a rotating internship at LDS Hospital in Salt Lake City, Utah. He went on to finish three years of a general surgery residency at Roosevelt Hospital in New York City, then completed a residency in orthopedic surgery at Hospital for Special Surgery and subsequently did a spine fellowship at the University of Toronto in Canada.
Dr. O'Leary is a member of many professional organizations. He is a fellow of the American Academy of Orthopaedic Surgeons, the International College of Surgeons and the American College of Surgeons. Dr. O'Leary is also a member of the New York Academy of Medicine, Cervical Spine Research Society, the Scoliosis Research Society and the North American Spine Society. Dr. O'Leary is consistently named a leading surgeon in surveys of his peers.
The Hospital for Special Surgery event will feature a reception at 6:30 p.m., and the dinner will start at 7:30 p.m.
To purchase tickets, please contact Terry Cooper at tcooper@projectsplusinc.com or call 212-997-0188, ext. 238.