HSS News Network
- Professional and Elite Athletes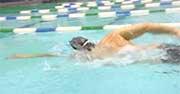 Olympic gold medalist Lenny Krayzelburg discusses his experience at HSS.
Physicians in the Sports Medicine Service at Hospital for Special Surgery treat professional and elite athletes. Hospital for Special Surgery is the Official Hospital of the New York Football Giants, the New York Mets, the New York Knicks, the New York Liberty, and the New York Red Bulls. Our doctors and physical therapists also work closely with USRowing and USA Swimming, among other teams.
However, you don't have to play in the Big Leagues to get all-star care at Hospital for Special Surgery. Our patients include every type of sports fans, from high school and college athletes to weekend warriors alike, all working toward the same goal of maintaining active lives.
---
<!IoRedDot_hdl_pageTitle>
Media Contacts
<!IoRedDot_hdl_pageTitle>
Social Media Contacts