New York, NY—April 2, 2014
Todd J. Albert, M.D., Chairman of the Department of Orthopaedics and President of The Rothman Institute at Thomas Jefferson University Hospital in Philadelphia, has been selected as the new Surgeon-in-Chief and Medical Director of the leading orthopedic hospital in the country, Hospital for Special Surgery (HSS) in New York City.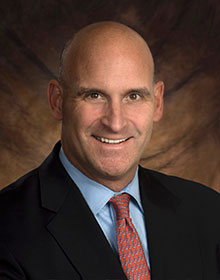 In announcing Dr. Albert's appointment, Kendrick R. Wilson III and Dean R. O'Hare, co-Chairmen of the Board of Trustees at HSS said, "Dr. Albert's considerable experience as a clinician, his strong leadership skills and contributions and dedication to academic excellence will be tremendous assets as we prepare for the next phase of development as a world leader in musculoskeletal medicine."
In this position, Dr. Albert will lead the Hospital's medical staff and continue to shape the overall direction of musculoskeletal medicine at HSS. Dr. Albert, who is also the Richard H. Rothman Professor and Chairman of Orthopaedics at Jefferson Medical College, is a world renowned orthopedic spine surgeon who will continue to practice at Hospital for Special Surgery focusing on cervical spine surgery.
He succeeds Thomas P. Sculco, M.D., who has served as Surgeon-in-Chief since 2003 and is Korein-Wilson Professor of Orthopedic Surgery at HSS. Dr. Sculco will become Surgeon-in-Chief Emeritus and continue his clinical practice as one of the nation's leading orthopedic surgeons specializing in hip and knee replacement.
This year-long search included highly accomplished candidates who were carefully vetted by a search committee including members of the Hospital Board of Trustees and medical staff. "As the nation's best hospital in orthopedics it was important to find the right candidate with experience leading an academic, research and clinically focused institution with global influence, who also understood and embraced the unique culture of HSS that has led to outstanding patient satisfaction and high quality patient-centered care," said Michael C. Brooks, chairman of the search committee.
"I am privileged to have the opportunity to work with a medical staff comprised of many of the best physicians in the world and practicing at an institution of the stature and reputation of HSS," said Dr. Albert. "I look forward to working closely with all members of the hospital, and to bring my years of experience and leadership to add value to the institution."
Dr. Albert graduated from University of Virginia School of Medicine and completed his residency in Orthopedic Surgery at Thomas Jefferson University Hospital where he was named outstanding chief resident, and performed a fellowship in spinal surgery at the Minnesota Spine Center.
Dr. Albert's commitment to education extends to training residents. "Teaching is a vital component to ensuring continued excellence in the practice of orthopedics, and HSS has one of the most prestigious training programs in the country," he said. HSS has a highly competitive orthopedic residency program. For the 2014-15 academic year, 660 medical school graduates applied for nine positions.
Dr. Albert serves on the boards of several scholarly journals and is Past President of The Cervical Spine Research Society and Past Chair of The International Meeting of Advanced Spinal Techniques (IMAST) for the Scoliosis Research Society. He is the author of seven books and more than 40 book chapters, and published 300 peer-reviewed and non-peer-reviewed articles.
Dr. Albert will officially begin his role as Surgeon-in-Chief and Medical Director of HSS on July 1. He is the twelfth Surgeon-in-Chief at HSS.
About HSS | Hospital for Special Surgery
HSS is the world's leading academic medical center focused on musculoskeletal health. At its core is Hospital for Special Surgery, nationally ranked No. 1 in orthopedics (for the eighth consecutive year) and No. 3 in rheumatology by U.S. News & World Report (2017-2018). Founded in 1863, the Hospital has one of the lowest infection rates in the country, and was the first in New York State to receive Magnet Recognition for Excellence in Nursing Service from the American Nurses Credentialing Center four consecutive times. An affiliate of Weill Cornell Medical College, HSS has a main campus in New York City and facilities in New Jersey, Connecticut and in the Long Island and Westchester County regions of New York State. In 2017 HSS provided care to 135,000 patients from 80 countries, and performed more than 32,000 surgical procedures. In addition to Patient Care, HSS leads the field in research, innovation, and education. The HSS Research Institute comprises 20 laboratories and 300 staff members focused on leading the advancement of musculoskeletal health through prevention of degeneration, tissue repair, and tissue regeneration. The HSS Innovation Institute was formed in 2015 to realize the potential of new drugs, therapeutics and devices; the global standard total knee replacement was developed at HSS in 1969, and in 2017 HSS made 130 invention submissions (more than 2x the submissions in 2015). The HSS Education Institute provides continuing medical curriculum to more than 15,000 subscribing musculoskeletal healthcare professionals in 110 countries. Through HSS Global, the institution is collaborating with medical centers worldwide to advance the quality and value of care, and to make world-class HSS care more accessible to more people.