Stamford, CT—February 7, 2017
Today, Stamford Health and Hospital for Special Surgery (HSS) formally announced a collaboration to create the premier center for advanced orthopedic care serving Connecticut and New England.
HSS Orthopedics at Stamford Health will provide a level of inpatient and ambulatory care unrivaled in the region. Under the collaboration, Stamford Health will adopt HSS best practices across the entire orthopedic service line, and surgeons from HSS in New York City will be providing care through HSS Orthopedics at Stamford Hospital.
HSS is the world's leading academic medical center focused on musculoskeletal health and has been ranked t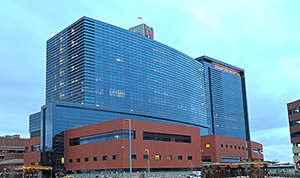 he #1 hospital for orthopedics in the U.S. for the past seven consecutive years by U.S News & World Report. HSS leads the field of orthopedics nationwide for successful outcomes, and lowest infection, complication and revision rates.
"We believe this strategic and innovative relationship with HSS will elevate our institution to the forefront of musculoskeletal services and further differentiate us from others in the region," said Brian G. Grissler, President and CEO, Stamford Health. "Through this collaboration, we will create a new Department of Orthopedic Surgery that integrates best practices and expands our capabilities."
As preeminent health systems, HSS and Stamford Health readily understand that the future of healthcare requires an effective blueprint for providing an efficient, consistent, and caring experience for every patient and family. The Stamford Health ethos of taking care of people by providing the finest care across the entire continuum – from prevention and wellness to diagnosis, treatment and ongoing support – aligns closely with the HSS mission.
"We are drawing upon the very best skills, talent and resources of HSS and Stamford Health in what is truly a transformational collaboration between our two organizations," said Louis A. Shapiro, President and CEO, Hospital for Special Surgery. "This revolutionary alliance will bring world-class orthopedic care closer to home for thousands of Connecticut residents, so fewer will need to leave the state for such care."
HSS Orthopedics at Stamford Health will be available on a dedicated fifth floor of the acclaimed new Stamford Hospital building late this year, and later this month (February 2017) at Tully Health Center.
"Stamford Health has been providing tertiary care to the residents of Fairfield County for more than 120 years," said Mr. Grissler. "Building upon our existing foundation of service, Magnet status nursing and a brand new hospital, this collaboration will take their orthopedic services to the next level."
HSS has provided pre-, post- and non-surgical care in Connecticut since 2001. The 20,000 square foot HSS Outpatient Center at Chelsea Piers Connecticut in Stamford will continue to provide those services, as will the neighboring HSS-Stamford Health Sports Rehab facility.
Learn more about HSS Orthopedics at Stamford Health at www.StamfordHealth.org/HSS.
About Stamford Health
Stamford Health is a not-for-profit healthcare system in lower Fairfield County. The system provides inpatient, outpatient and ambulatory services through Stamford Hospital, a 305-bed acute care tertiary hospital; Stamford Health Medical Group, a partnership of primary and specialty care physicians; Stamford Hospital Foundation; and a diverse and growing number of retail and ambulatory locations across the region. Stamford Health is affiliated with the NewYork-Presbyterian Healthcare System and is a major teaching affiliate of the Columbia University College of Physicians and Surgeons.  Stamford Health's Carl and Dorothy Bennett Cancer Center is a member of the Dana-Farber/Brigham and Women's Cancer Care Collaborative. Stamford Hospital received Magnet® Designation for nursing excellence in 2016, and the Planetree Distinction Award for Leadership and Innovation in Patient-Centered Care in 2014. For more information, visit StamfordHealth.org. Like us on Facebook and follow us on Twitter.