Dr. Albert to serve as 48th president
New York, NY—September 12, 2017
Todd J. Albert, M.D., surgeon-in-chief and medical director of Hospital for Special Surgery (HSS) was inducted as the 48th president of the Scoliosis Research Society (SRS) at the 52nd Annual Meeting & Course in Philadelphia, Pennsylvania on Saturday, September 9.
With over 1,000 members, SRS is an international society that was founded in 1966 with only 37 members. Current membership includes the world's leading spine surgeons, researchers, physician assistants and orthotists who are involved in the research and treatment of spinal deformities.
Dr. Albert began his one-year term as president effective September 9. He has been a member of SRS since 1994 and has served in leadership positions including the chair of the Program Committee and the International Meeting of Advanced Spinal Techniques.
"I'm truly honored to lead this organization that has been a driving force in the field of spinal deformity," said Dr. Albert. "As we continue to evolve into a global society, I hope to further advance the research, education and training that is necessary to bring high quality care to every patient with a spinal deformity."
Dr. Albert joined HSS as surgeon-in-chief in 2014 and is also the Korein-Wilson Professor of Orthopaedic Surgery. Specializing in the field of orthopedic spine surgery, Dr. Albert focuses on disorders of the cervical spine. Additionally, he has an interest in minimally invasive surgical techniques and image guided technologies. He is the author of seven books and more than 40 book chapters and has published 300 peer-reviewed and non-peer-reviewed articles.
As president, Dr. Albert will travel both nationally and internationally to lecture and teach fellow spine surgeons. He will also oversee administration and the organization's major meetings.
Outside of the OR, Dr. Albert loves biking, has a penchant for history and enjoys traveling. Dr. Albert lives in Manhattan with his wife Barbara and has three adult children.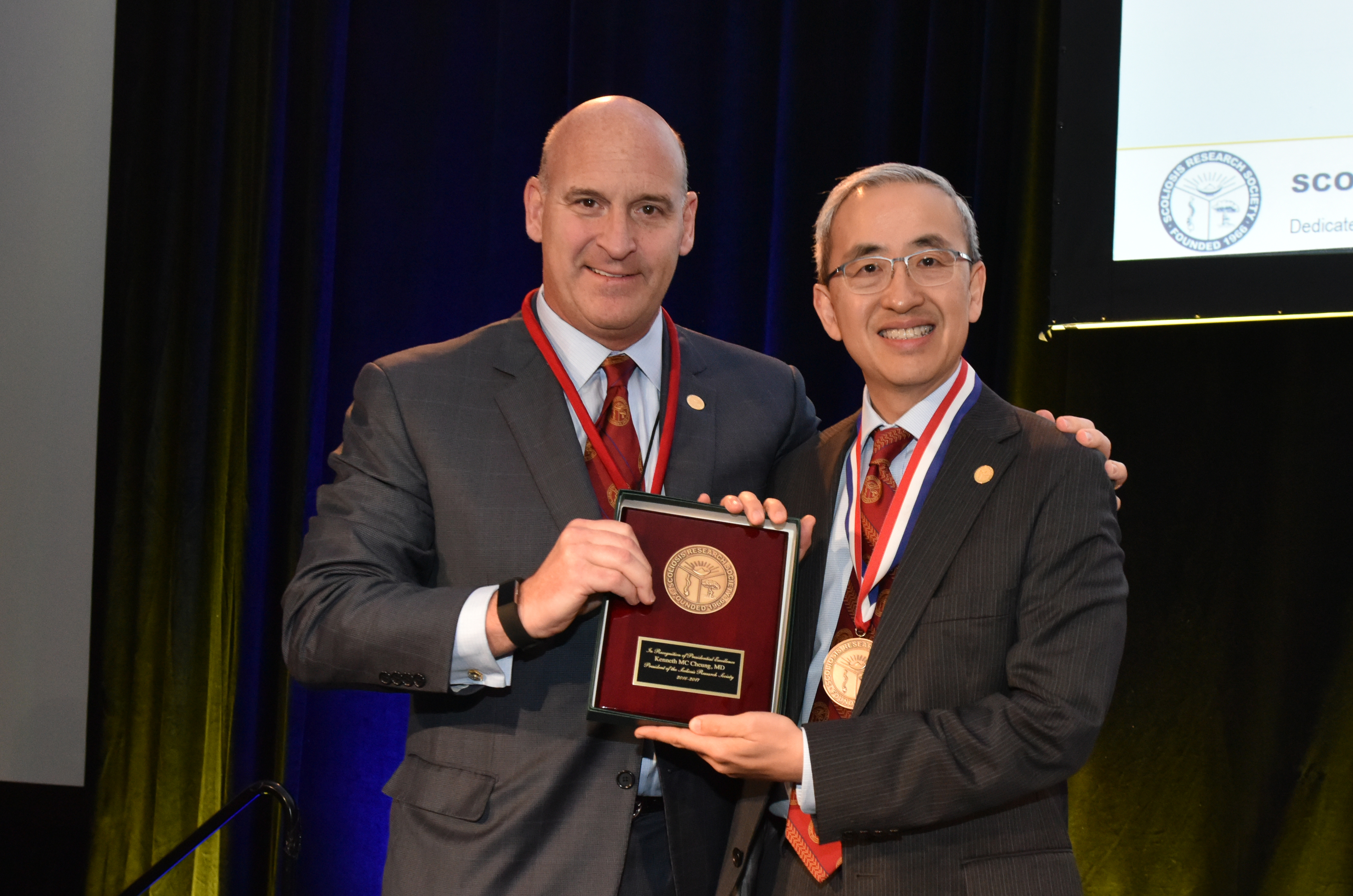 Todd J. Albert, MD with outgoing SRS president Professor Kenneth Cheung, MD.
About HSS | Hospital for Special Surgery
HSS is the world's leading academic medical center focused on musculoskeletal health. At its core is Hospital for Special Surgery, nationally ranked No. 1 in orthopedics (for the ninth consecutive year) and No. 3 in rheumatology by U.S.News & World Report (2018-2019). Founded in 1863, the Hospital has one of the lowest infection rates in the country and was the first in New York State to receive Magnet Recognition for Excellence in Nursing Service from the American Nurses Credentialing Center four consecutive times. The global standard total knee replacement was developed at HSS in 1969. An affiliate of Weill Cornell Medical College, HSS has a main campus in New York City and facilities in New Jersey, Connecticut and in the Long Island and Westchester County regions of New York State. In 2017 HSS provided care to 135,000 patients and performed more than 32,000 surgical procedures. People from all 50 U.S. states and 80 countries travelled to receive care at HSS. In addition to patient care, HSS leads the field in research, innovation and education. The HSS Research Institute comprises 20 laboratories and 300 staff members focused on leading the advancement of musculoskeletal health through prevention of degeneration, tissue repair and tissue regeneration. The HSS Global Innovation Institute was formed in 2016 to realize the potential of new drugs, therapeutics and devices. The culture of innovation is accelerating at HSS as 130 new idea submissions were made to the Global Innovation Institute in 2017 (almost 3x the submissions in 2015). The HSS Education Institute is the world's leading provider of education on the topic of musculoskeletal health, with its online learning platform offering more than 600 courses to more than 21,000 medical professional members worldwide. Through HSS Global Ventures, the institution is collaborating with medical centers and other organizations to advance the quality and value of musculoskeletal care and to make world-class HSS care more widely accessible nationally and internationally.