New York—November 5, 2013
Experts say it's never too late to reap the benefits of exercise, and a program offered in New York City senior centers is improving quality of life for many older adults. The exercise program, offered by Hospital for Special Surgery (HSS) in senior centers in New York City's Chinatown and Flushing, Queens communities, has helped decrease pain, improve mobility and enhance the overall health of many participants, according to a study by HSS.
The research, titled "Impact of an Asian Community Bone Health Initiative: A Community-Based Exercise Program in New York City," was presented at the American Public Health Association Annual Meeting on November 5 in Boston.
The Asian older adult population in New York City grew by 64 percent from 2000 to 2010, and one in four seniors lived in poverty in 2010. "This population is at risk for osteoarthritis and osteoporosis," said Laura Robbins, DSW, senior vice president of Education and Academic Affairs at HSS. "They are more than twice as likely to have no health insurance coverage compared to other major race and ethnic groups. Cultural and linguistic barriers limit access to healthcare services."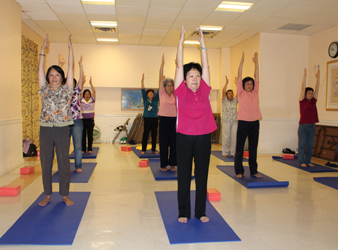 To address these issues, Hospital for Special Surgery developed the Asian Community Bone Health Initiative, which is comprised of culturally-relevant, bilingual education and exercise classes. The initiative plays an important role in enabling the hospital to meet the musculoskeletal health needs of Asian older adults living in New York City, according to Sandra Goldsmith, MA, MS, RD, director of Public and Patient Education.
Six eight-week sessions of the Arthritis Foundation Exercise Program (AFEP) and three eight-week yoga exercise classes were conducted by bilingual instructors at four senior centers in Chinatown and Flushing, New York. The programs promote self-management of arthritis and other musculoskeletal conditions through exercise.
"Getting seniors to be active in any way will generally improve their quality of life and help them function better in their everyday activities," said Linda Russell, MD, a rheumatologist and chair of the Public and Patient Education Advisory Committee at Hospital for Special Surgery. "People believe that if you have arthritis you shouldn't exercise, but appropriate exercises actually help decrease pain."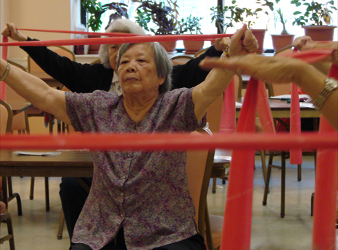 The AFEP sessions offered by HSS instructors consisted mainly of chair-based exercises. The yoga sessions featured beginner yoga classes. The goal was to help Asian seniors decrease musculoskeletal pain, stiffness and fatigue; improve balance; reduce falls; and increase physical activity.
The program was offered between November 2011 and September 2013, with a total of 199 participants. A survey was distributed before and after the exercise classes to evaluate pain, function and other health indicators, and 119 participants responded.
Nearly all respondents were female and age 65 or older. In the survey, many participants reported that their pain intensity dropped and interfered less with their quality of life. The following statistically significant results are noteworthy:
• 48% fewer participants had pain on a daily basis after completing the program
• 69% more participants could climb several flights of stairs after the program
• 83% more participants could bend, kneel, or stoop
• 50% more participants could lift/carry groceries
• 39% of participants felt the program reduced their fatigue
• 30% participants felt that the program reduced their stiffness
"The study results indicate that the hospital's Bone Health Initiative has a positive impact on the musculoskeletal health of the Asian senior population," said Huijuan Huang, MPA, program coordinator. "While further research is needed, HSS will continue to offer culturally-sensitive programs to this community to help seniors stay active, decrease pain and improve their overall health."
About HSS | Hospital for Special Surgery
HSS is the world's leading academic medical center focused on musculoskeletal health. At its core is Hospital for Special Surgery, nationally ranked No. 1 in orthopedics (for the ninth consecutive year) and No. 3 in rheumatology by U.S.News & World Report (2018-2019). Founded in 1863, the Hospital has one of the lowest infection rates in the country and was the first in New York State to receive Magnet Recognition for Excellence in Nursing Service from the American Nurses Credentialing Center four consecutive times. The global standard total knee replacement was developed at HSS in 1969. An affiliate of Weill Cornell Medical College, HSS has a main campus in New York City and facilities in New Jersey, Connecticut and in the Long Island and Westchester County regions of New York State. In 2017 HSS provided care to 135,000 patients and performed more than 32,000 surgical procedures. People from all 50 U.S. states and 80 countries travelled to receive care at HSS. In addition to patient care, HSS leads the field in research, innovation and education. The HSS Research Institute comprises 20 laboratories and 300 staff members focused on leading the advancement of musculoskeletal health through prevention of degeneration, tissue repair and tissue regeneration. The HSS Global Innovation Institute was formed in 2016 to realize the potential of new drugs, therapeutics and devices. The culture of innovation is accelerating at HSS as 130 new idea submissions were made to the Global Innovation Institute in 2017 (almost 3x the submissions in 2015). The HSS Education Institute is the world's leading provider of education on the topic on musculoskeletal health, with its online learning platform offering more than 600 courses to more than 21,000 medical professional members worldwide. Through HSS Global Ventures, the institution is collaborating with medical centers and other organizations to advance the quality and value of musculoskeletal care and to make world-class HSS care more widely accessible nationally and internationally.