San Diego, CA—March 16, 2017
Scott Wolfe, MD, chief emeritus of the Hand and Upper Extremity Service at Hospital for Special Surgery in New York City, has received the prestigious Kappa Delta Orthopaedic Research Award. Considered one of the highest honors that an orthopedic researcher can receive, it is presented to investigators who make key discoveries leading to major advances in the field of orthopedics.
Dr. Wolfe was honored at a ceremony at the American Academy of Orthopaedic Surgeons Annual Meeting on March 16 in San Diego. He will present his award-winning paper at the meeting of the Orthopaedic Research Society on March 19.
Dr. Wolfe's research, spanning almost three decades, has advanced the understanding of wrist kinematics, which describes the wrist motions necessary to carry out a wide range of activities. "Macro-kinematics studies how the hand moves in space in relation to one's forearm," Dr. Wolfe explains, "while micro-kinematics focuses on how any one or several of the eight bones in the wrist move during a particular activity."
Collaborating with his research colleague, Joseph (Trey) Crisco, PhD, Dr. Wolfe sought to gain a better understanding of the underlying mechanisms of wrist movement with the goal of developing new and better treatments for arthritis and other wrist injuries. Dr. Crisco, with whom Dr. Wolfe shares the Kappa Delta Award, is director of the Bioengineering Laboratory in the Department of Orthopaedics at Warren Alpert Medical School of Brown University and Rhode Island Hospital.
"Receiving the Kappa Delta Award is an incredible honor, representing to us an endorsement of our decades of work together and the importance of this work to patient care," Dr. Wolfe noted. "We are honored and humbled that the American Academy of Orthopaedic Surgeons chose our work to receive this award, particularly when considering the 'giants' of orthopedic surgery who have preceded us and our many colleagues who are currently doing incredible work in so many fields of orthopedic surgery."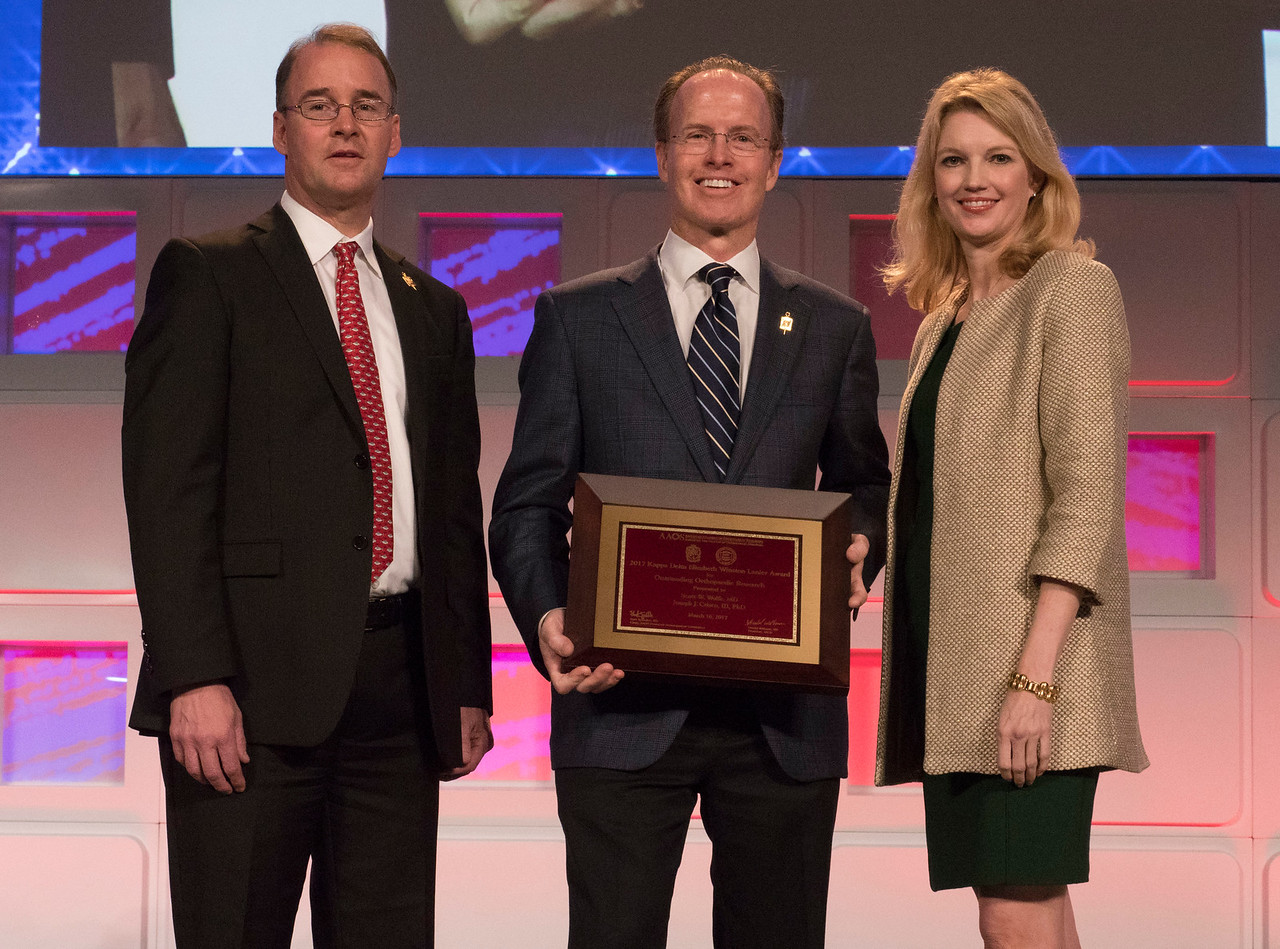 The wrist is the most complex joint in the human body. Wrist arthritis, affecting up to 4.8 million Americans, is one of the most common and debilitating conditions treated by hand surgeons. Although current surgical interventions can alleviate arthritis pain, wrist motion and the ability to perform certain activities are often limited after surgery.
The work of Drs. Wolfe and Crisco can be described in three stages, roughly corresponding to the three decades of their collaborative efforts. In the 1990s, they dedicated their work to unraveling the complexity of how individual bones moved in normal and injured wrists. They designed and validated a three-dimensional motion analysis system to measure wrist kinematics during active tasks.
The second decade of their work focused on understanding the wrist motions needed to perform both ordinary activities, such as pouring water from a pitcher, as well as high-demand activities, such as throwing a baseball or hammering a nail into a wall. They studied this in patients with normal wrists; in individuals who had sustained a wrist injury; in patients with wrist arthritis; and in those who had surgery to relieve arthritis pain.
Since 2010, Drs. Wolfe and Crisco have turned their attention to developing new and improved treatments for wrist arthritis. "In our third decade of research, we have been using the knowledge we've gained to craft solutions that would enable the wrist to move more normally during ordinary and high-demand activities," Dr. Wolfe noted. He and Dr. Crisco have designed new implants for total and partial wrist replacements that, if proven successful, would allow for better movement, enabling patients to return to higher levels of function with less pain.
Drs. Wolfe and Crisco have received approximately $10 million dollars in funding from the National Institutes of Health for their work over the past 27 years.
About HSS | Hospital for Special Surgery
HSS is the world's leading academic medical center focused on musculoskeletal health. At its core is Hospital for Special Surgery, nationally ranked No. 1 in orthopedics (for the ninth consecutive year) and No. 3 in rheumatology by U.S.News & World Report (2018-2019). Founded in 1863, the Hospital has one of the lowest infection rates in the country and was the first in New York State to receive Magnet Recognition for Excellence in Nursing Service from the American Nurses Credentialing Center four consecutive times. The global standard total knee replacement was developed at HSS in 1969. An affiliate of Weill Cornell Medical College, HSS has a main campus in New York City and facilities in New Jersey, Connecticut and in the Long Island and Westchester County regions of New York State. In 2017 HSS provided care to 135,000 patients and performed more than 32,000 surgical procedures. People from all 50 U.S. states and 80 countries travelled to receive care at HSS. In addition to patient care, HSS leads the field in research, innovation and education. The HSS Research Institute comprises 20 laboratories and 300 staff members focused on leading the advancement of musculoskeletal health through prevention of degeneration, tissue repair and tissue regeneration. The HSS Global Innovation Institute was formed in 2016 to realize the potential of new drugs, therapeutics and devices. The culture of innovation is accelerating at HSS as 130 new idea submissions were made to the Global Innovation Institute in 2017 (almost 3x the submissions in 2015). The HSS Education Institute is the world's leading provider of education on the topic on musculoskeletal health, with its online learning platform offering more than 600 courses to more than 21,000 medical professional members worldwide. Through HSS Global Ventures, the institution is collaborating with medical centers and other organizations to advance the quality and value of musculoskeletal care and to make world-class HSS care more widely accessible nationally and internationally.